Specific products for your baby's specific needs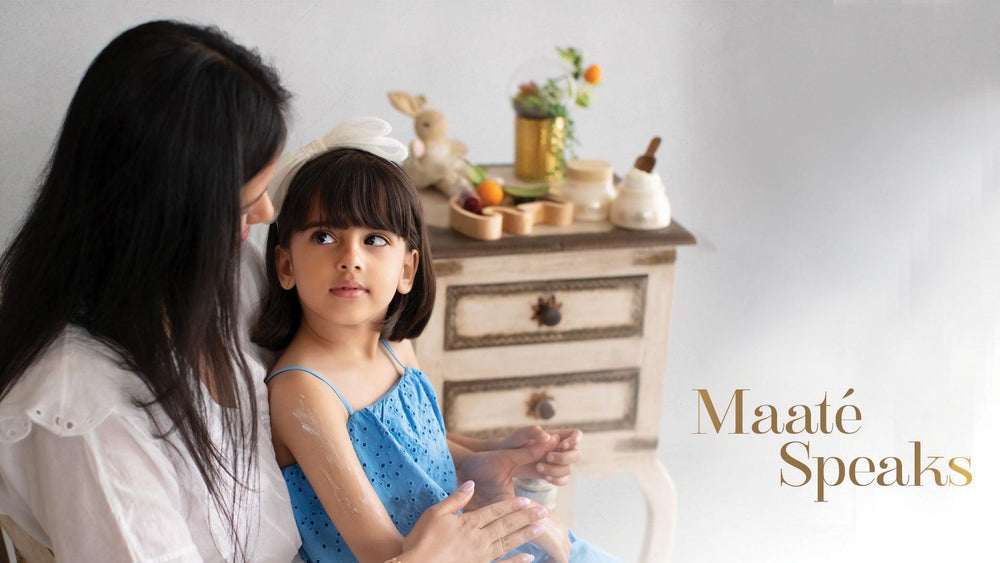 Your newborn baby's skin is a work in progress. It's sensitive, delicate, and goes through major changes when exposed to the environment outside your protected womb. As you wish to nourish, comfort, and cleanse their beautiful skin, it's important to realize that their specific needs require specific products. Your baby's epidermis layer is three to five times thinner than yours and is made up of much smaller cells. It is thus important to only use skincare that's specifically made for their delicate skin. Furthermore, we at Maaté also realize that products need to have specific benefits for the different parts of your child's delicate and growing body, and that is why we create different hand made products like baby face butter, baby body butter, baby body wash, etc that meet the exact requirements of different body parts. Keeping the salient differences of different parts of your baby's body in mind is important as it helps you, the mother who nurtures, to provide the best possible care to your little one.
Maaté has designed specific products that protect particular body parts from the damage they are most prone to. For instance, our baby Face Butter is specially made with Chamomile Oil and Shea Butter for your baby's facial skin as this skin is thinner than the skin on the rest of their body.
Loaded with antioxidant properties of Fenugreek, Maaté's hydrating face butter offers protection to your baby's sensitive skin against all kinds of oxidative damage. Avocado oils present in this face butter provides your little one with long-lasting hydration and helps establish an effective shield against UV rays while the Jojoba oils deeply penetrate and mirror their skin's natural sebum.
Still, wondering why you can't just use your existing baby body lotion for your baby's face? Read on:
Like we mentioned above, your baby's facial skin is ultra-thin when compared to the skin on their bodies. Body butter or lotions are often thicker and may even contain fragrances that can irritate your angel's sensitive facial skin. Your baby's face already has a high concentration of oil-producing sebaceous glands. Thick and heavy body lotions can further aggravate these glands and lead to oily and acne-prone skin.
Hence for your baby's skin, you should always use something more gentle, delicate, and specific, like Maaté's baby face butter as this skin is also more frequently exposed to harmful elements like UV rays, etc. While the baby body butter provides deep moisturization across your baby's limbs and body, the face butter protects and repairs their facial skin from all the harsh pollutants and oxidants that damage it.
The oils present in this face butter, also control the oil secretion of your baby's facial skin and avoids acne and rashes. You can check out this baby face butter full of antioxidant and anti-microbial properties here.
In a market obsessed with one-stop solutions for your baby, invest in specific products that meet your baby's specific needs for 100% focus and nourishment.
---