3 natural baby care products every parent needs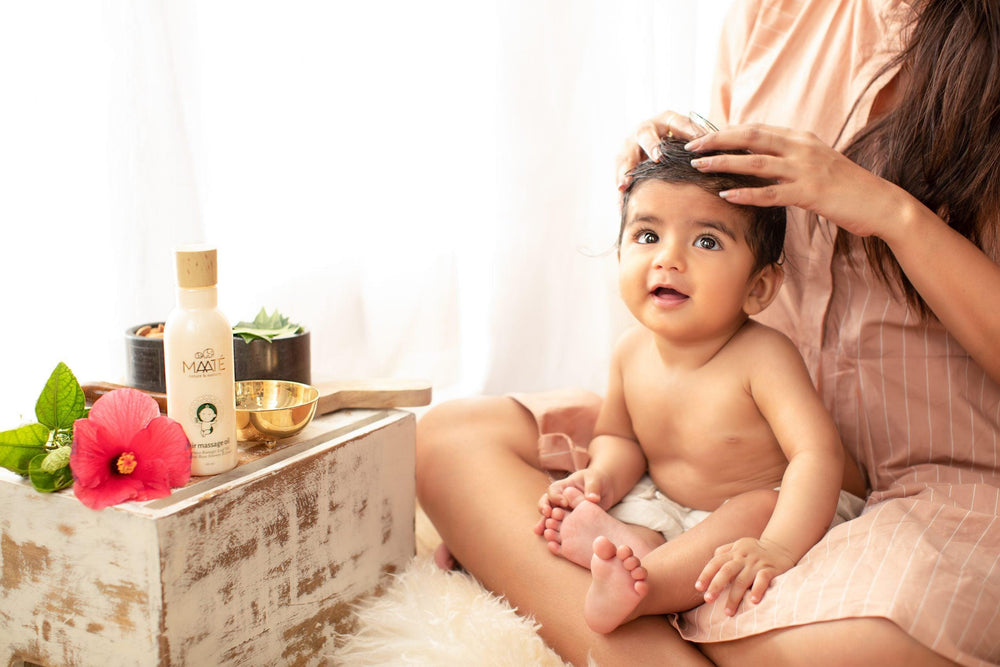 A baby's needs are above the needs of an average adult. Babies require special, specific products for their special, specific needs, and natural baby care products are the way to go. They are safe, gentle, and due to their chemical-free production, the most nourishing for your baby's skin and health.

As a loving mom, the last thing you want to do is expose your baby's delicate skin to processed, perfumed toxic products that do more harm than good, and we, at Maaté, understand that.  To help you in your journey of motherhood, we've made for you a list of some of the most beneficial, natural baby care products that you absolutely need in your baby's skin-care regimen.
Besides being a great bonding exercise, the age-old practice of massaging your baby comes with a world of health benefits. It is necessary to use a safe, effective oil while you do that though, and there is nothing better or safer than Maaté's baby body massage oil.

Containing the benefits of multiple natural oils like Sunflower, Wheat germ, and Avocado oil, it aids in the healthy growth of your baby's bones. Being one of the most nourishing natural baby care products online, it also enhances the absorption of nutrients in your baby's body and improves blood circulation while increasing oxygenation in the major internal organs. Effective ingredients like Morinda Citrifolia Leaf Extract aid in skeletal growth and bone mineralization making it a product every parent needs in their baby care inventory.
Rinsing your little one's hair is an integral part of their daily routine but it's important to find the right natural baby care products for the same, ones that don't strip their delicate hair of its natural, essential oils.

Maaté's baby hair cleanser is an all-natural baby shampoo that is made keeping your baby's tender scalp in mind. The chemical-free formulation gently cleanses your baby's hair while Fenugreek and Neem extracts strengthen your baby's hair roots, leaving the hair soft and shiny. The Fenugreek also prevents dryness and has moisturizing and antifungal properties which make this cleanser one of our most gentle natural baby care products.

The shampoo also contains an impressive amount of protein from Green Gram which protects the hair from UV rays and pollution, helping you fulfill your promise of wellness to your child.
This intensely moisturizing body butter ensures that your baby's sensitive skin is getting the comfort and protection it needs. The all-natural ingredients provide long-lasting hydration while promoting and stimulating the growth of healthy skin cells and boosting collagen making it one of the top natural baby care products available in the market today.
Kokum butter and Saffron oil control dryness and rashes while properties of Marigold and Rosemary oils provide antibacterial protection and a natural radiance to your baby's delicate skin. 
All of these 3 products are naturally made with 0 chemical interventions and without unnecessary additives. They are a must for every baby's wellness and have the promise of Maaté to strengthen your child for the adventures to come.
---