Maate Baby Butter Lotion - Hypoallergenic | Deep Hydration
Regular price

Rs. 1,399.00

Regular price

Rs. 1,399.00

Sale price

Rs. 1,399.00
Available Offers

FLAT 15% off On orders above Rs.3500 Use Code: MAATE15

FLAT 20% off On orders above Rs.4500 Use Code: MAATE20
Deeply nourishes using nine precious oils & butters.
Gentle formulation ideal for baby's delicate skin.
Hydration, radiance & long-lasting moisture for all season.
No parabens, SLS, mineral oil, silicones, or artificial fragrances.
Certified Hypoallergenic, clinically proven to be safe for sensitive skin.
Pediatrician and dermatologist tested.
Eco-Friendly Preservatives: Uses USDA certified biobased preservatives
Discover Maate's Baby Butter Lotion, crafted with shea and kokum butter, saffron oil, and licorice for your baby's delicate skin. Our baby lotion offers long-lasting hydration and radiance, featuring sweet flag and marigold for dry, sensitive baby skin. Its lightweight, quick-absorbing formula ensures a smooth, non-greasy feel, ideal for daily use to maintain your baby's skin health and glow.
Ingredients

Aqua, Shea Butter, Cocoa Seed Butter, Cetyl Alcohol, Coconut Oil, Moringa Seed Oil, Olive Oil, Kokum Seed Butter, Cetearyl Olivate (and) Sorbitan Olivate, Wheat Germ Oil, Aloevera Extract, Glyceryl Monostearate, Coriander Extract, Licorice Root Extract, Sweet Flag Extract, Glyceryl Caprylate, Saffron Oil, Orange Oil, Sodium gluconate, Vetiver Oil, Marigold Oil, Rosemary Oil, Xanthan gum, Potassium Carbonate.

We use the purest natural ingredients and responsible packaging ensuring sustainability for the planet and holistic wellness for children.
How to use

Take an appropriate quantity of Butter Lotion and apply generously on your baby's body until fully absorbed.
Storage Caution

For external use only. Store in a cool dry place.
FAQ'S

Q: What natural ingredients are in Maate Baby Butter Lotion?
A: It contains Kokum, Shea, Cocoa butters, Saffron, Orange, Vetiver, Marigold, Olive, Rosemary oils, Aloe Vera, and Licorice extracts.

Q: Is this lotion suitable for babies with sensitive skin?
A: Yes, it's hypoallergenic and specially formulated for sensitive baby skin.

Q: Can Maate Baby Butter Lotion be used for dry skin?
A: Absolutely, it's highly moisturizing and ideal for babies with dry skin.

Q: Are there any harmful chemicals in the lotion?
A: No, it's free from Parabens, SLS, Mineral Oil, Silicones, and Artificial Fragrances.

Q: Is Maate Baby Butter Lotion tested by pediatricians?
A: Yes, it's pediatrician tested and dermatologically approved for baby skin.

Q: How does this lotion benefit my baby's skin?
A: It hydrates, soothes, and enhances skin radiance, making it soft and healthy.

Q: Is the lotion vegan and cruelty-free?
A: Yes, it's PETA certified, vegan, and animal test-free.

Q: Can I use this lotion for my newborn?
A: Yes, it's safe and effective for newborns and children up to 12 years.

Q: Does this lotion leave a greasy residue?
A: No, it has a lightweight formula that absorbs quickly, leaving no greasy feel.

Q: What makes Maate Baby Butter Lotion unique for baby skincare?
A: It combines natural butters and oils like Kokum, Shea, and Cocoa with herbal extracts, offering unique hydration and nourishment.

Q: Is Maate Baby Butter Lotion suitable for babies with eczema?
A: Yes, Maate Baby Butter Lotion is suitable for eczema-prone skin, providing gentle and soothing hydration. Its hypoallergenic formula, rich in natural butters and oils, is designed to nourish sensitive skin without causing irritation. For babies with extremely dry skin or severe eczema, we recommend our Maate Baby Body Butter, which offers even deeper hydration and more intensive care. As always, for severe skin conditions or concerns, consulting a pediatric dermatologist is advisable.

Q: How often can I apply this lotion on my baby's skin?
A: It's safe for daily use, ideally after baths or whenever the skin feels dry.

Q: Can Maate Baby Butter Lotion be used in all seasons?
A: Absolutely, its hydrating properties are beneficial throughout the year, for both summer and winter.

Q: Does Maate Baby Butter Lotion help with baby skin rashes?
A: Yes, its natural and soothing ingredients can help alleviate skin rashes.

Q: Is this lotion safe for a baby's face?
A: Yes, its gentle formula is safe for use on the face and all over the body.

Q: How long does the hydration from Maate Baby Butter Lotion last?
A: It provides long-lasting hydration, keeping your baby's skin moisturized for hours.

Q: Is Maate Baby Butter Lotion suitable for allergy-prone skin?
A: Yes, its hypoallergenic nature makes it suitable for allergy-prone skin.

Q: Are the ingredients in Maate Baby Butter Lotion organic?
A: The lotion contains natural ingredients, focusing on purity and safety for baby skin.
Frequently Bought Together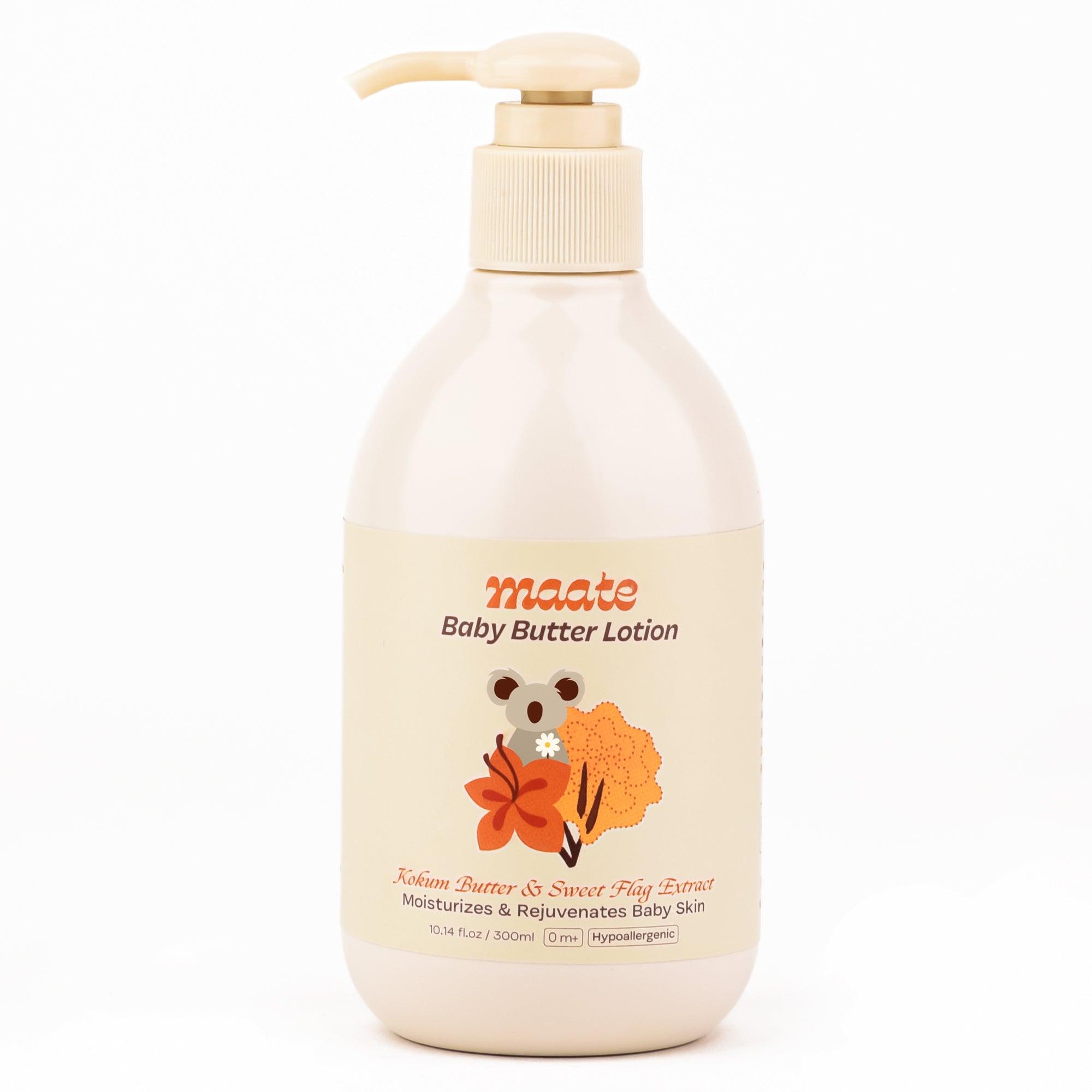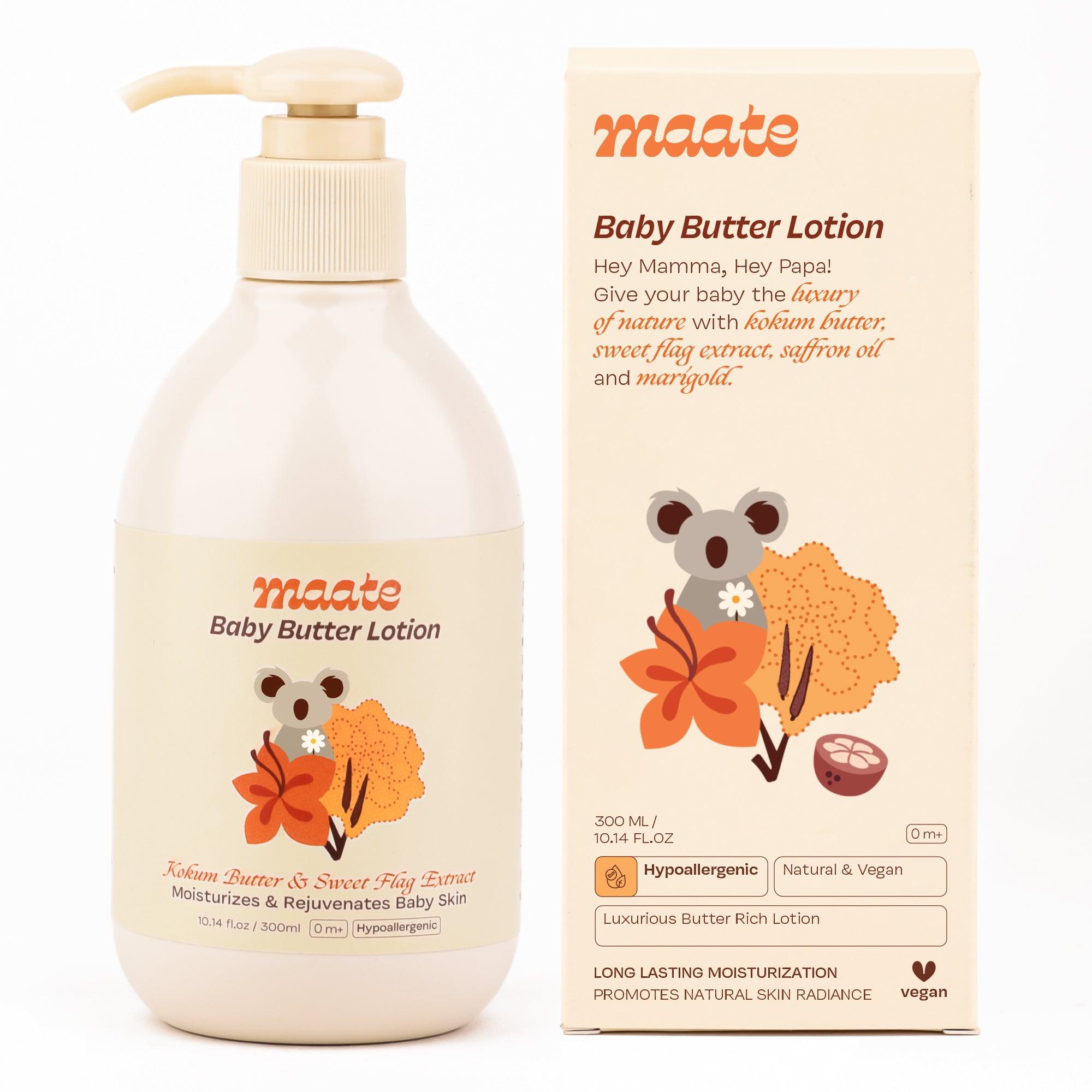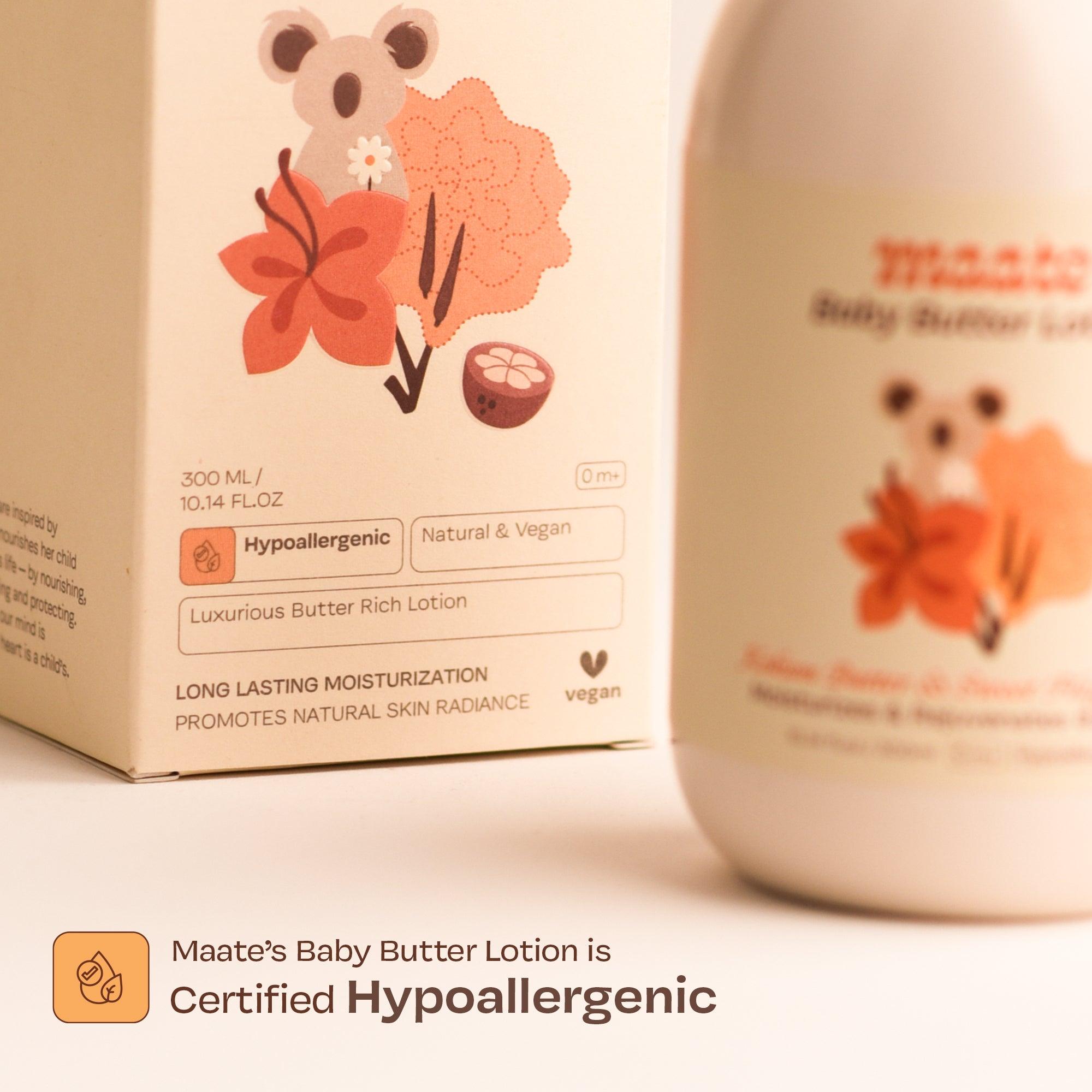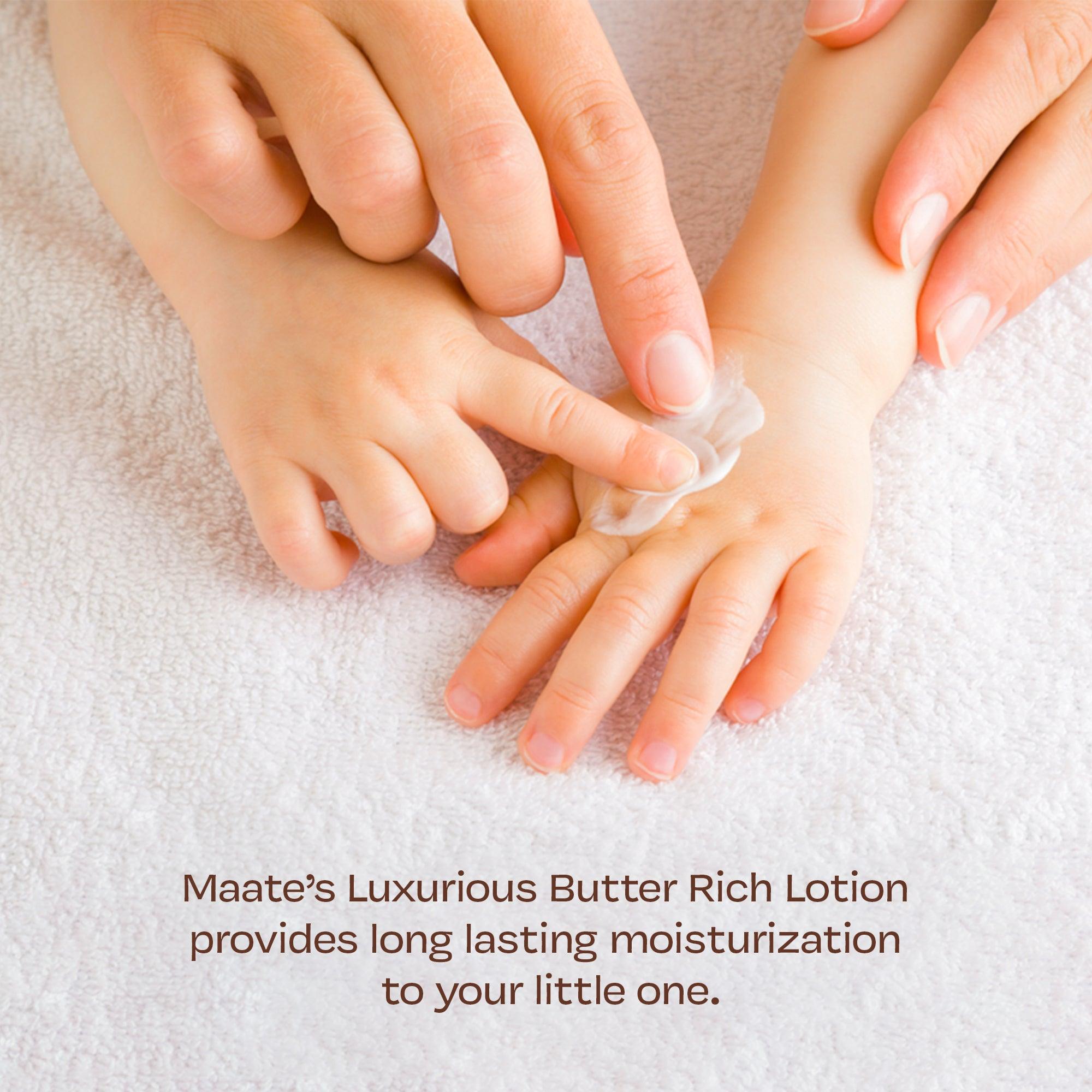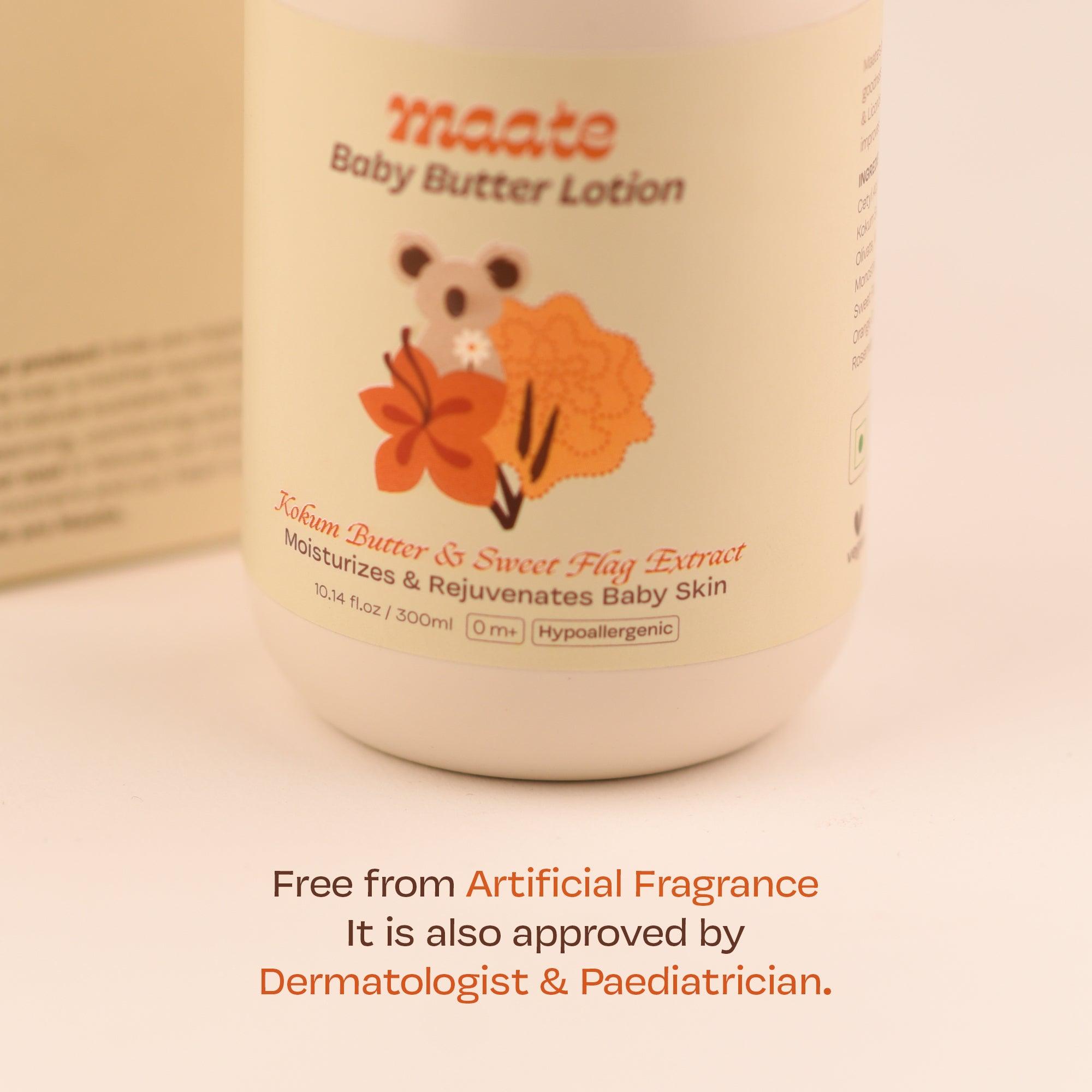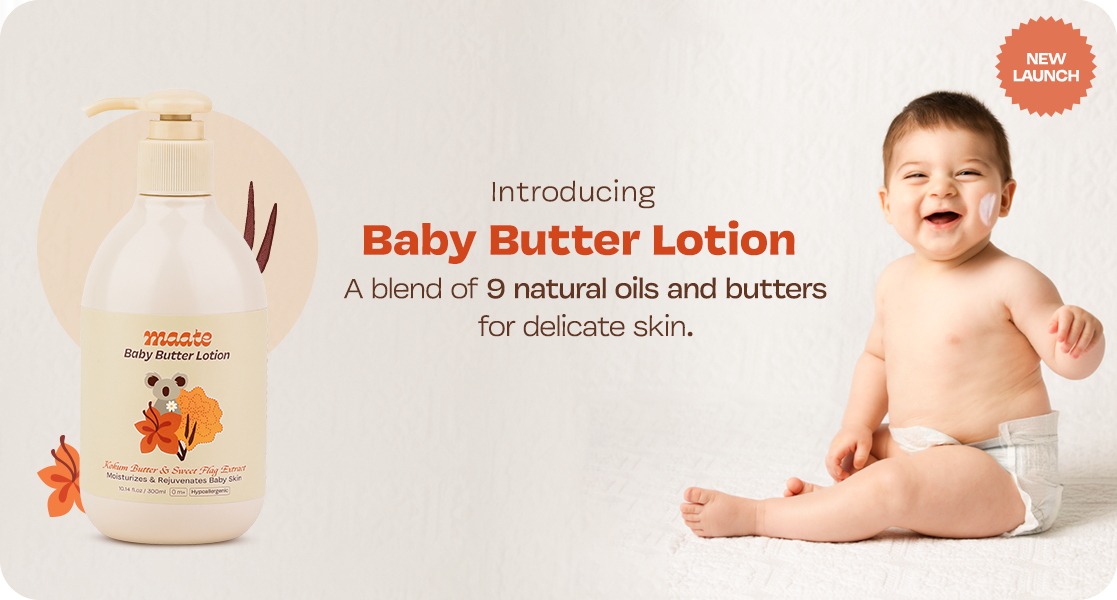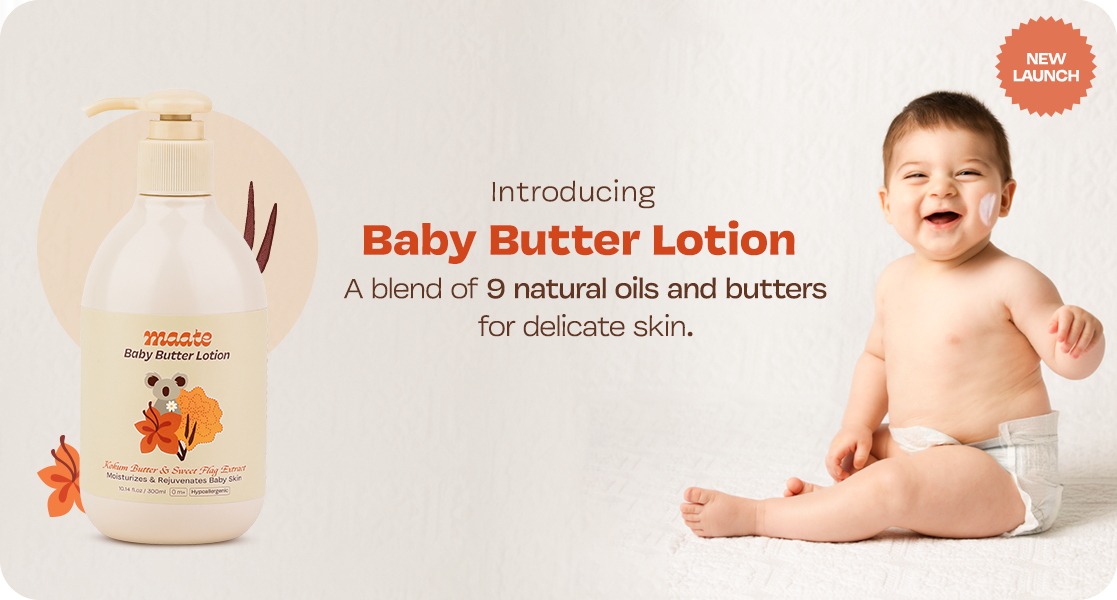 Our Baby Lotion blends 9 natural oils and butters, like Kokum, Shea, and Cocoa, with healing Saffron oil and soothing Aloe Vera. Ideal for baby's dry skin, it offers deep hydration and gentle care with nature's finest ingredients.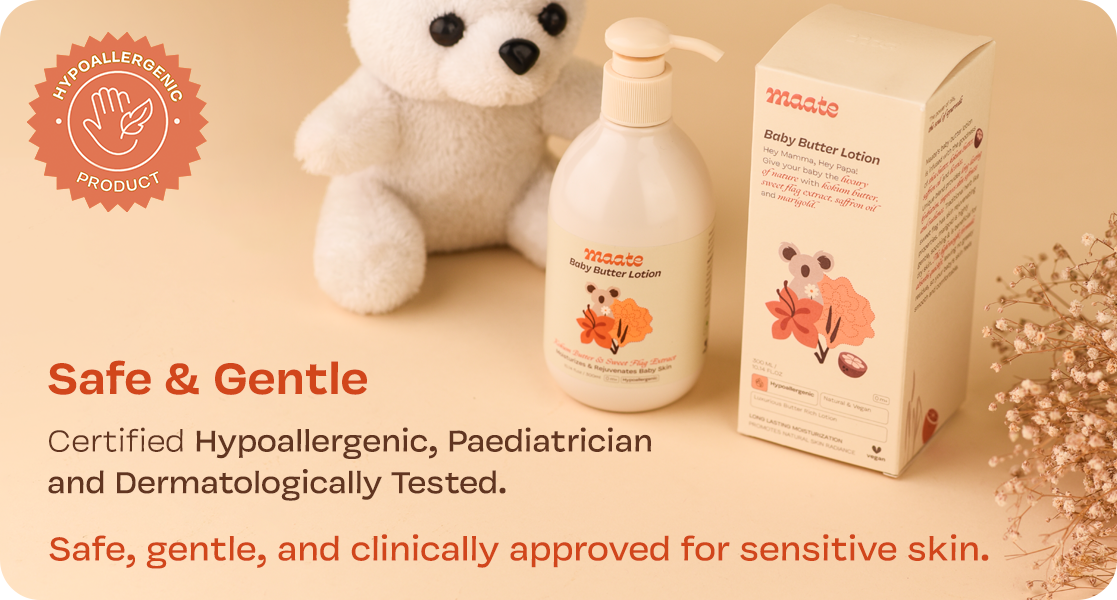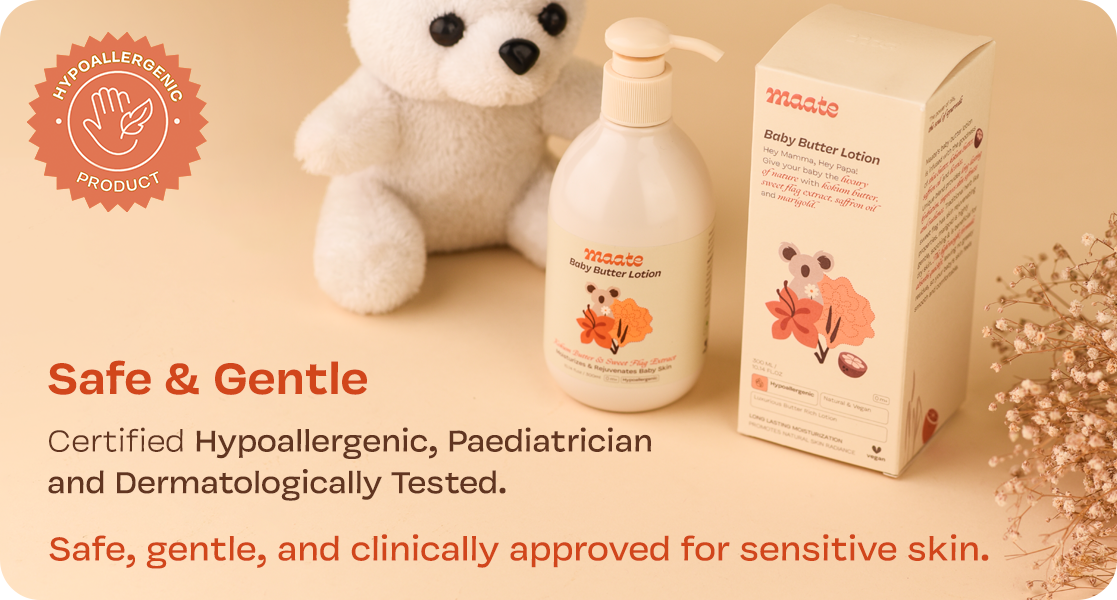 Trust Maate Baby Butter Lotion for your baby's skin: certified hypoallergenic, pediatrician and dermatologist tested for utmost safety and gentleness. This clinically approved, soothing formula is perfect for daily care, offering peace of mind and gentle protection.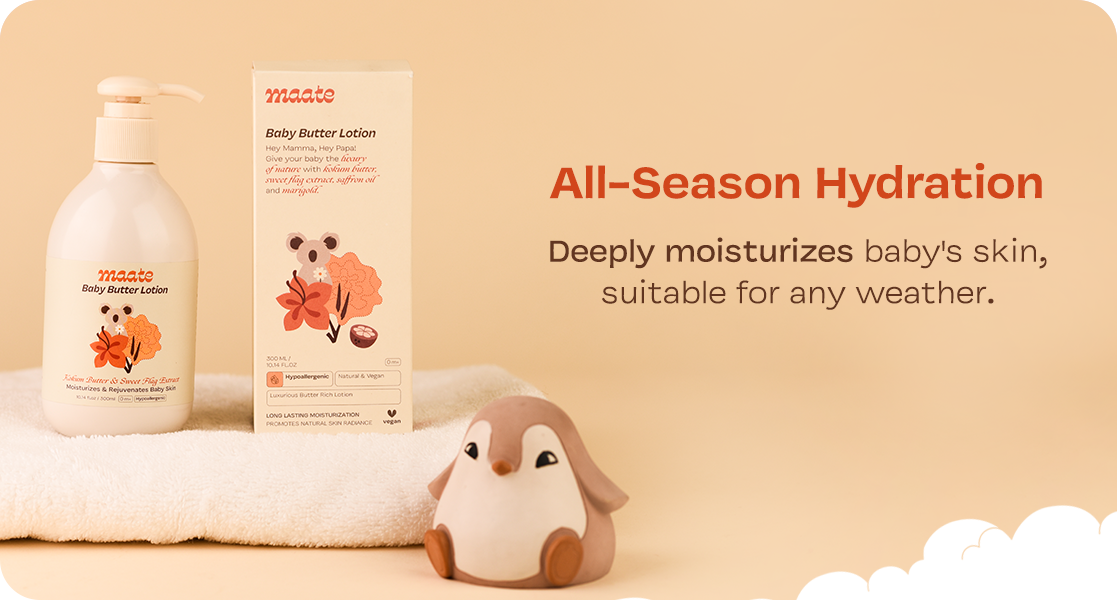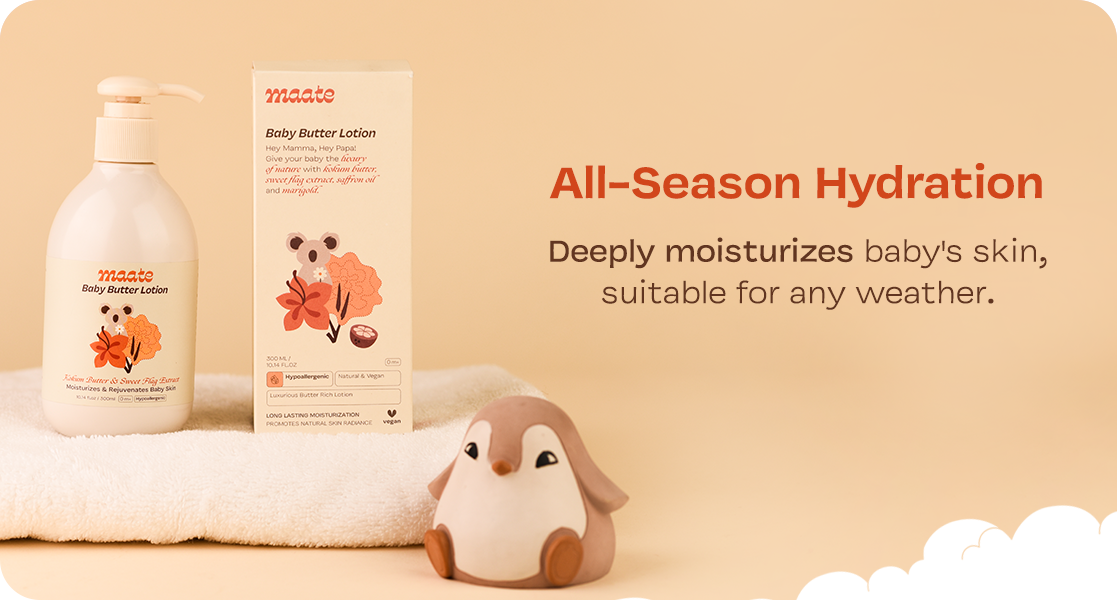 Maate Baby Lotion delivers All-Season Hydration, perfectly balancing deep moisture for your baby's skin throughout summer and winter, ensuring softness and suppleness year-round.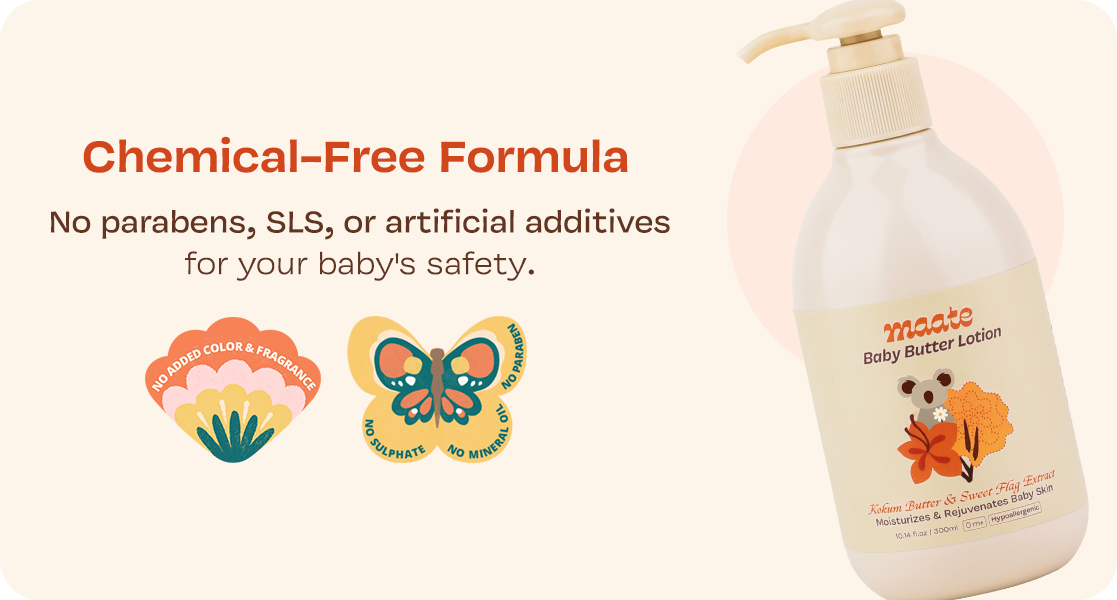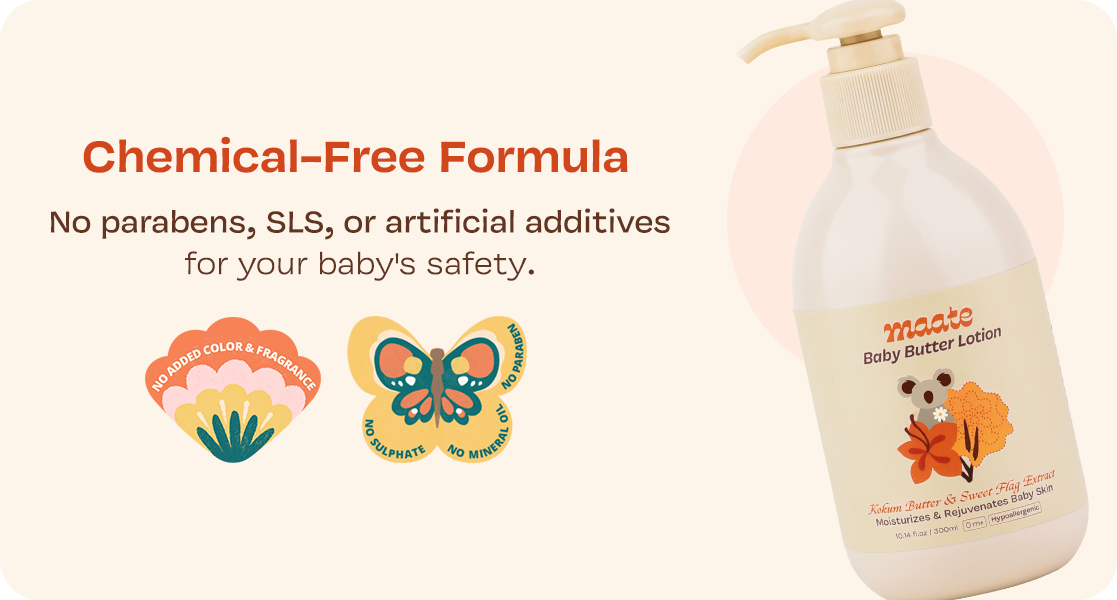 Choose safety with our Chemical-Free Formula, free from parabens, SLS, fragrances, and artificial additives. Our commitment to your baby's wellbeing ensures a pure, gentle, and natural skincare experience without compromising on quality.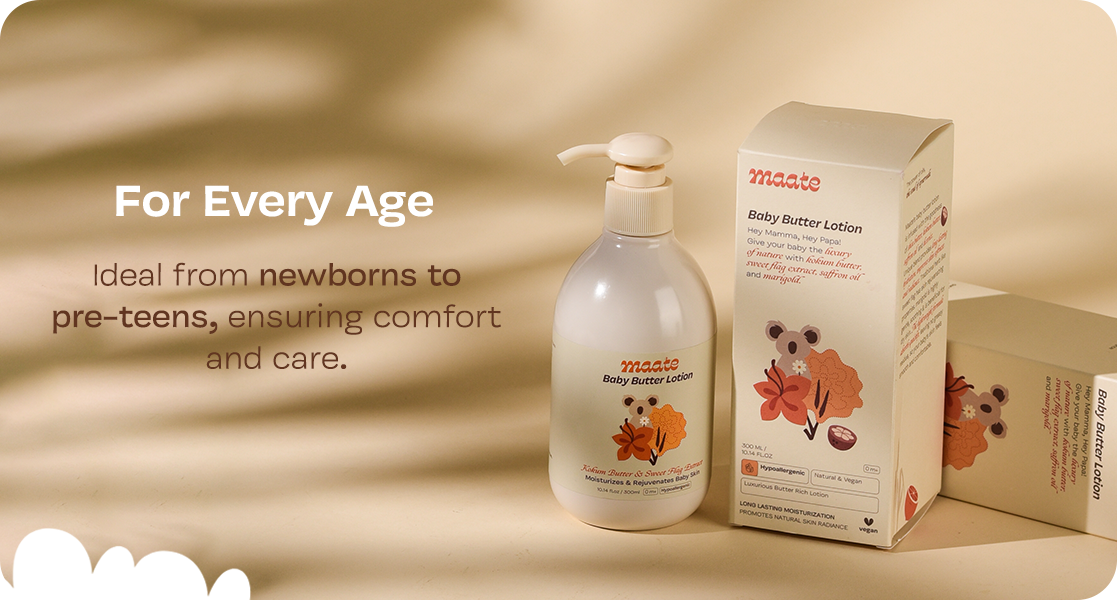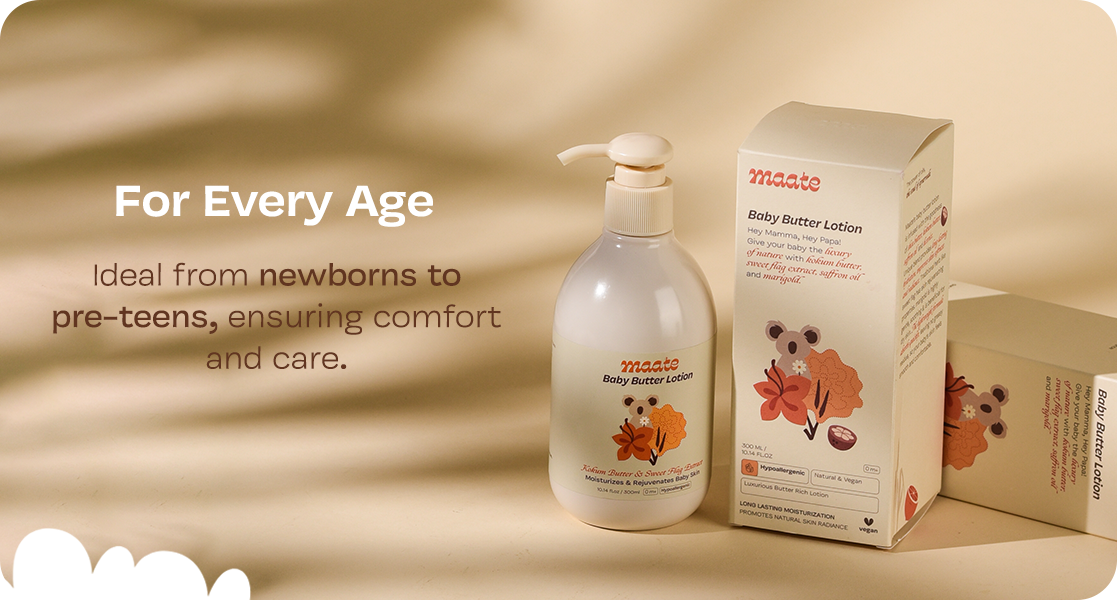 Perfect for every age, from cuddly newborns to adventurous pre-teens. Our gentle, nurturing formula provides comfort and care, ensuring soft, happy skin through all of childhood's stages.