3 nourishing baby products online for supple moisturized skin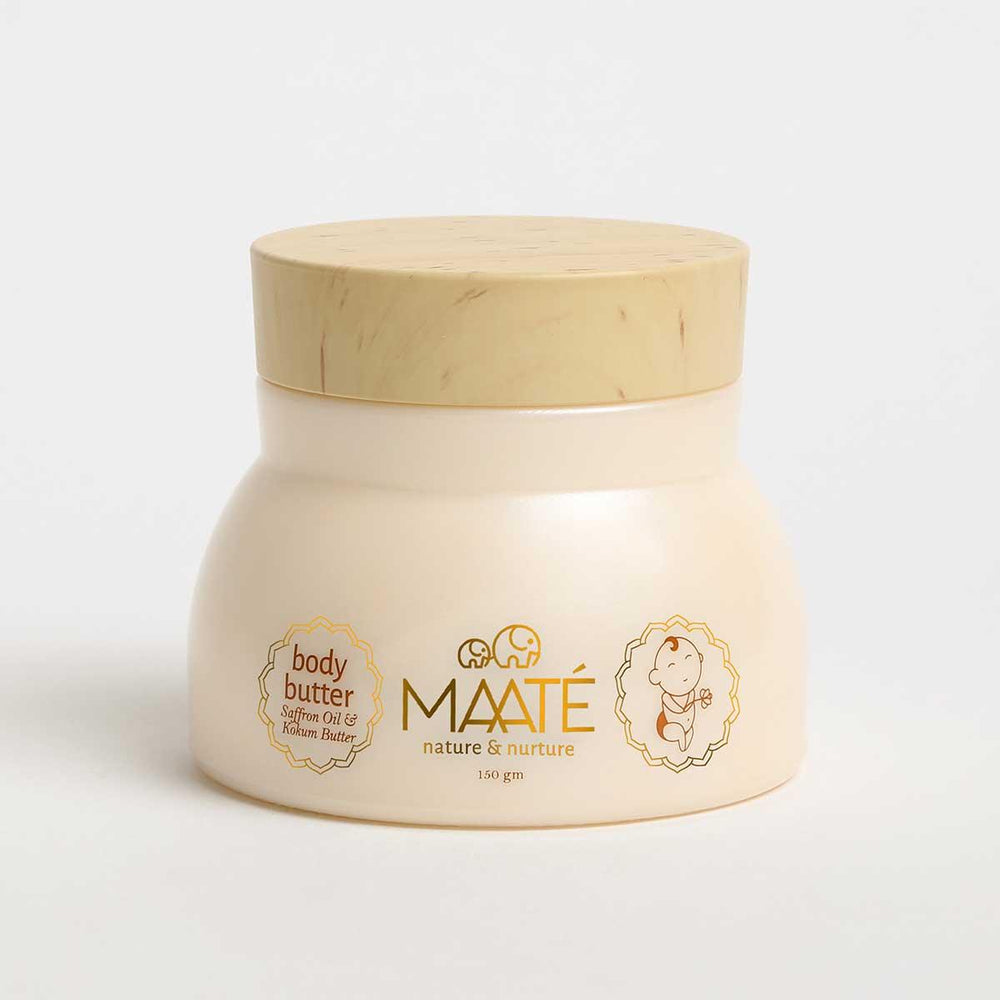 Soft as cotton and smooth as silk, the touch of your baby's tender skin is a feeling like none other. However, life outside the womb can affect your little angel in more ways than one. Your baby's skin can often suffer from the effects of the new harsh environment and is quite prone to get irritated. It is thus crucial to protect it from toxins and keep it safe, especially, in the initial stages of development.

We, at Maaté, understand your concern to protect their milky smooth skin and keep intact its softness and gentleness. Here are our 3 most nourishing baby products online that help you stick to the promise of providing the best to your child-
Baby Body Butter
Maaté's Body Butter nourishes and moisturizes your baby's skin to promote the growth of healthy skin cells. Made with Saffron oil, Kokum butter, and the love of Mother Nature, the chemical-free body butter is one of our top baby products online and ensures that your baby's sensitive skin gets the comfort and protection it needs. Brace yourself for the most intense moisturizing experience for your baby which not only leads to long-lasting hydration and freshness but also boosts collagen for the healthy growth of cells. Experience it here.
Baby Body Massage Oil
The practice of massage has helped generations of mothers to provide their babies with the warmth and protection of the womb even after birth. Using only the best baby products online is a must to maintain the purity of this ritual. Try out Maaté's baby body massage oil rich in Morinda Citrifolia Leaf extracts and Pomegranate Seed oil, which helps your baby's delicate limbs grow stronger and healthier after every stroke.Get supple moisturized skin, faster cellular growth, and overall well being of your child with one of the best baby products online, check it out here.
Baby Face Butter
Your baby's cute face is the most pleasing sight to your eye. Those chubby cheeks and bright eyes are enough to make your love grow with every look and we know there is nothing you wouldn't do to keep them that way.

At Maaté, we believe there are specific products for specific needs. Your little angel's facial skin is thinner and more delicate than that of the rest of the body and thus needs special attention.

Maaté Baby Face Butter is specially formulated for your baby's gentle face to provide long-lasting hydration and protection against oxidative damage. The presence of Chamomile oil and Shea butter make it one of the most nourishing baby products online and protect their precious face from allergens, microbes, and UV rays. Make your worry ours and try out nature's goodness for the wellness of your baby with the baby face butter by Maaté here. Rich with antioxidants and antibacterial properties, this baby face cream is bound to keep your baby's skin radiant and your heart happy.
---