4 baby care products online new mothers swear by!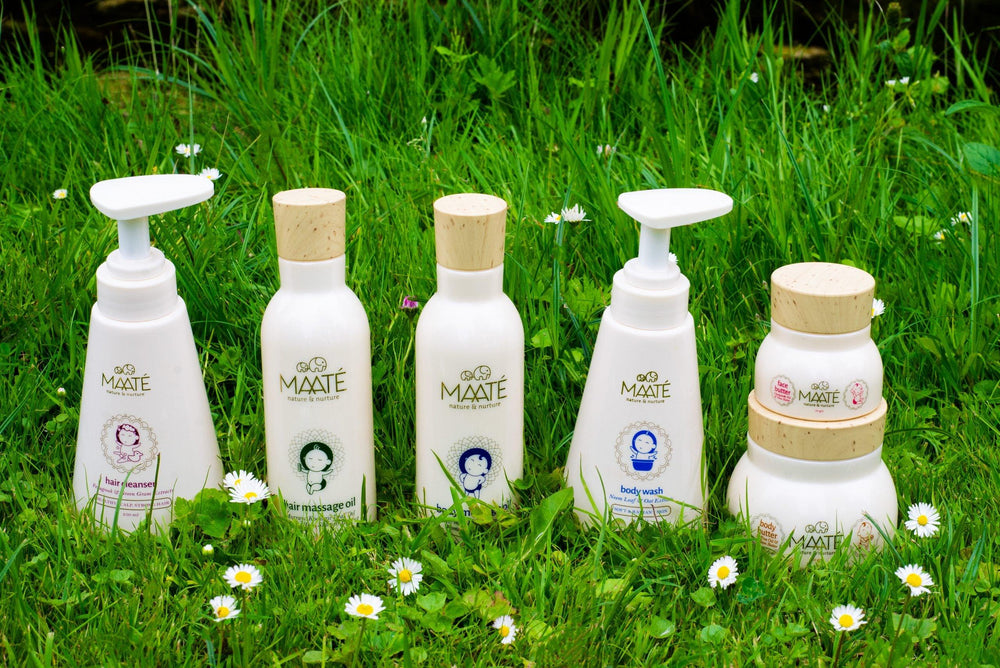 Motherhood is a journey no one can really prepare you for and new mothers often have to trust their instinct and rely on the risky trial and error method to figure out what works for their baby. However, one thing that helps out during this crucial time of raising your little one is the community of mothers around you. Tried and tested recommendations and tips not only help in making your baby more comfortable and healthy but also boost your confidence as a mother.
Here we have for you 4 baby care products online that new mothers swear by. 100% tried and tested, you can't miss out on these!
Maaté's Baby Body Massage Oil
 "The best time I spend with my one-year-old is our massage time. As she has just started walking so it's all the more important to massage her legs regularly at this point. We have been using Maaté's massage oil on her and we love it."- Shaily Khera Thadani -Editor, Elite magazine India

Massaging your baby is an old age tradition with tangible benefits passed on from generation to generation. It not only helps the baby's body but also strengthens the mother's bond with her baby.Maaté's authentic body massage oil is considered the best baby oil for the season as it stems from the lap of Mother Nature and combines Morinda Citrifolia Leaf Extract and Pomegranate Seed Oil to increase their body's resilience and boost their immune system.  It has a chemical-free formula and leads to supple moisturized skin, faster cellular growth, and overall mental well being for your bundle of joy. Try out one of the top baby care products online here and experience the strongest bond during your baby's daily massages.
Maaté's Baby Face Butter 
"The face butter feels so light and soft! I love it so much that I use it on my face too. It absorbs well into the skin and the face looks fresh and hydrated. Also, the fragrance is so subtle and natural that even my little one loves the smell."

Made with the goodness of Chamomile Oil and Shea Butter, Maaté Baby Face Butter is specially formulated for your little one's gentle facial skin. It is known to provide long-lasting hydration and protection against oxidative damage and strong protection from different allergens, microbes, and UV rays. A face butter rich with antioxidants and anti-bacterial properties, this baby face cream is without a doubt one of the best baby care products online. Check out this jar of goodness right here.
Maaté's Baby Body Butter
"Really like the products sent by Maaté. Especially loved the body butter as its super hydrating even after 8 hours the skin remains supple."- Harpreet Suri- Blogger, MomWearsPrada
.
Maaté's Body Butter is a natural baby body lotion that ensures your baby's sensitive skin gets the comfort and protection it needs. Made with rich Kokum Butter and Saffron Oil, this lotion is one of the best baby care products online for new mothers.  It offers an intensely moisturizing experience that provides long-lasting hydration to your little one while promoting the growth of healthy skin cells and boosting collagen. Buy it here.
Maaté's Natural Baby Hair Cleanser
 "I am using the hair cleanser for my 3 years old daughter. It makes a real difference in the texture of her hair. " 

Rinsing your little one's hair is an integral and beautiful part of your baby's routine where stories and laughter are shared, and we understand your desire to keep it unadulterated and avoid all chemicals. Maaté's Natural Baby Hair Cleanser is a fine blend of natural emollients and extracts which condition the scalp and cleanse hair without stripping the scalp's natural oils. Topping the list of the most recommended baby care products online, it not only cleanses your baby's delicate locks gently but also nourishes the scalp with essential Fenugreek and green extracts. Nature's goodness in a bottle, this one is a must-try, check it out here.
While you embark on the special journey of motherhood, it's natural to want only the best baby products online for your little one. Nourish and nurture today with Maaté.
---