4 nourishing Skincare Baby Products form Maaté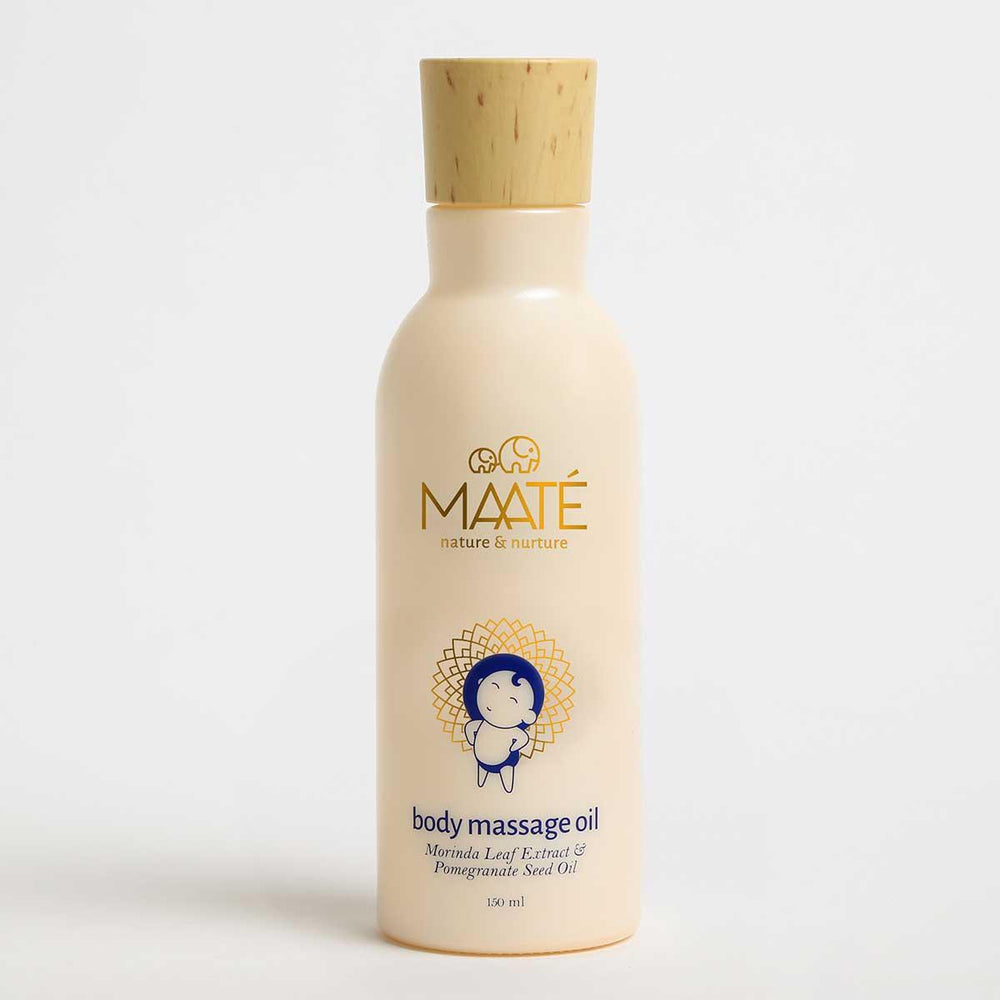 New parents are very particular about everything when it comes to their first child as to what needs to be done and taken care of. We've been there and are here now for you, to help you on your journey of being able to provide the right kind of skin and hair care to your baby. We, at Maaté, bring to you gentle and effective baby products to help your child get loads of nourishment. Read further to discover our range of baby products that are crafted with love by mothers.
Baby Body Massage Oil
Our first baby product, Body Massage Oil,  provides your adorable baby with all the right nutrients and essential vitamins that promote healthy muscle development when massaged with. It contains extracts from Morinda Citrifolia Leaves and Pomegranate seed oil which help aid your baby's bodily development. Make our baby body massage oil yours and watch your baby enjoy our beautiful body massage oil that you can find right here.
Baby Body Wash
Probably the most cherished time of the day for you and your baby is when you give them a bath and make them squeaky clean - free of all germs and harmful contaminants. Our refreshing body wash enhances their bathing experience and ensures proper and much-needed nourishment of their soft skin with the goodness of Neem Leaf and Oat Extracts. Get this essential bath baby product right here.
Baby Body Butter
This baby product provides natural protection to your baby's sensitive skin and gives long-lasting moisturization while promoting the healthy growth of skin cells. Proper moisturization is imperative for healthy skin development in your baby and our creamy body butter promotes this very deep nourishment. It works best post-baby baths with our Baby Body Wash as the two not only complement each other by providing all necessary skin nutrients but also enhance the glow of your baby's skin. Formulated with Saffron Oil and Kokum Butter, this baby product is all your little one needs to retain their soft and supple skin. Click here to get our baby body butter.
Baby Face Butter
The skin on the face of a baby is more sensitive than other parts of the body. This makes it all the more important to apply the right kind of products to their face. Our baby face butter provides protection to your baby's sensitive skin, long-lasting hydration, protection from harmful UV rays, allergens, and microbes. It is formulated with Chamomile Oil Shea Butter, definitely a must-have for your baby's skincare routine. Click here.
---