5 WAYS TO PREVENT DRY SKIN IN BABIES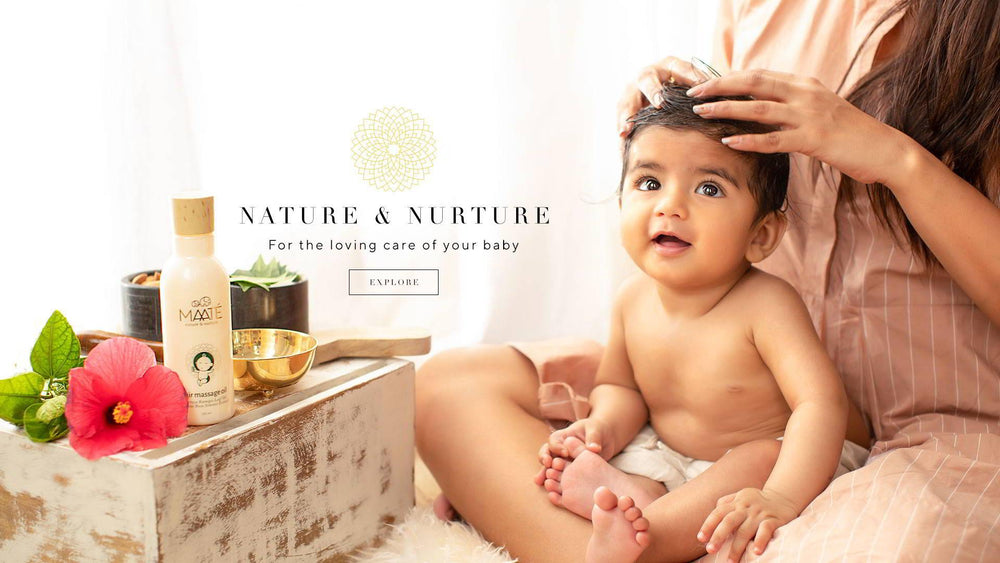 The touch of your baby's satin-smooth skin is a sensation like none other. As your tiny bundle of joy adapts to the new world outside the womb, their skin often suffers the effects of the harsh environment. Your one such concern can be that of drying skin. Winters especially can aggravate this problem and lead to excessive drying in the form of dry patches, rough-grainy texture, tight appearance, and deep cracks on your little angel's face and body.
Not only is your baby's skin thinner than yours but it also produces less moisturizing oils than your skin, thus making the use of the best body butter for babies essential.
Their milky soft skin is as delicate as they are and we at Maaté understand your mission to protect it. From using the best body butter for babies to some daily routine changes, here are 5 ways you can prevent your baby's gentle skin from drying -
1. Use lukewarm water for baths 
Hot water plays quite a role in stealing moisture from your baby's skin and leading to dryness. Improve this nourishing experience for your baby by using lukewarm water instead. The lukewarm water is gentle and comfortable on their skin and significantly improves the bonding bath-time session with your little one. Follow a lukewarm water bath with body butter for babies to sustain the moisture in your baby's skin. 
2. Avoid extremely long baths 
Giving your little one extremely long baths, especially in the winters can wash away the moisture and the natural oils from their skin. 7-10 minutes of bath time is considered the ideal time and is recommended by experts. While we understand your particularity of measuring bathing water, it's a great habit to moisturize your little one's skin with a body butter for babies so that the lost moisture can be restored. 
3. Invest in the right baby care 
Harsh soaps can strip the softness from your baby's delicate skin and lead to dry and irritated skin. Watch out for chemically induced soaps and lotions. Instead, invest in ayurvedic and organic baby care products like those of Maaté. Our products are made from the goodness of nature without any chemical intervention. You can get our body butter for babies right here to give the Jr. you nothing but the best.
4. Make fluids your child's best friends
In winters where liquid intakes tend to drop in adults, it's essential to ensure the same doesn't happen with your baby. Make sure your little one has enough liquids throughout the day and stays hydrated. Breast milk and water keep both the body and their skin cool for long and well hydrated. Give these at regular intervals to keep that beautiful little face smiling. Couple this with our body butter for babies to ensure your baby is getting their nourishment inside out!
5. Moisturize Well 
And finally, moisturize! Not only coupling moisturization with the above-mentioned steps is great for your baby but even doing it alone can do physical and mental wonders to your baby. It is the best savior from dry skin - the process of giving back to the skin and nourishing it. Maaté's body butter ensures your baby's sensitive skin gets all the protection and comfort it needs. It is the best body butter for babies and makes for an intensely moisturizing experience that not only provides long-lasting hydration to the skin of your bundle of joy but also promotes the growth of healthy skin cells. It creates a thick layer around their skin to ensure there is no moisture lost. You can fully provide the goodness of the butter by gently massaging it twice a day on your baby and strengthening your mother-baby bond. This natural body butter for babies is made with Saffron oil and Kokum butter and lovingly nurture's your baby's skin just as you nurture their soul. Get your 150 grams of pure magic here today!
A secure attachment of love. You are your child's harbor. Secure their skin and health with the gift of mother nature with us at Maaté.
---