All you need to know about Maaté Baby Skin Care Products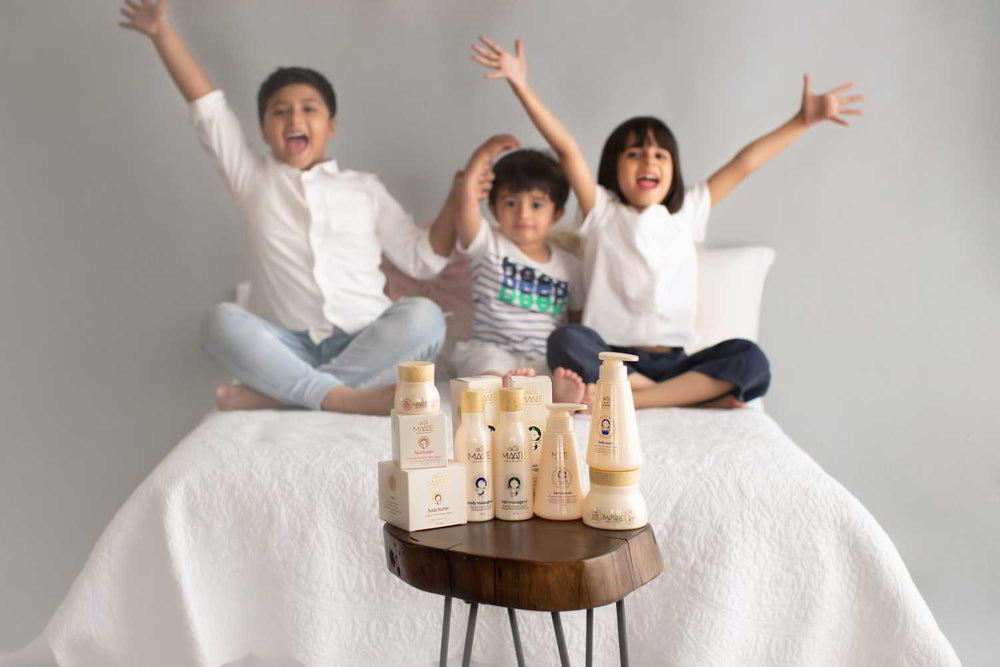 As parents, it's a given that you want the very best for you little ones. To make the tedious task to bring home the best baby skin care products, we've curated a list of 100% natural ingredients that our products are made of. Read further to discover the goodness of our baby products.
1. Maaté Hair Cleanser
Maaté's Natural Baby Hair Cleanser (Baby Shampoo) is a fine blend of natural emollients and extracts which conditions the scalp and cleanse hair without stripping the scalp's natural oils. Rinsing your little one's hair is an integral part of their daily routine but the harsh effects of shampoo on those soft and delicate strands are always a concern. Maaté ensures you feel good about what you put on your baby's tender scalp while cleansing their hair.

Ingredients
Fenugreek Extract, Green Gram Extract, Neam Leaf Extract, Rosa Centifolia Extract, Eclipta Alba Extract, Cassia Alata Extract, Lavender Oil, Aqua, Coco-Glucoside, Sodium Coco Ampho Acetate, Sodium Chloride, and Sorbital.

You can get our baby hair cleanser and other baby skin care products right here. 
2. Maaté Body Wash
A baby's bath time is a special daily ritual that gives a mother time to cherish some laughs and those special candid moments with her little one. Giving your baby a refreshing bath not only pampers their gentle skin but also adds to their health. Maaté's moisturizing baby body wash is Natural Baby Soap formulated with natural cleansers that cleanse with care and leave your baby's tender skin soft, supple and radiant.

Ingredients
Oat Extract, Neam Leaf Extract, Licorice Extract, Lavender Oil,  Sage Extract, Aqua, Coco-Glucoside, Sodium Coco Ampho Acetate, and Sodium Chloride.
Buy our baby body wash and other baby skin care products right here.
3. Maaté Hair Massage Oil
Hair massage is an age-old tradition that which brings a mother and her child together for a special bonding exercise over which memories are created & stories shared. Maaté's hair Massage Oil is created with the goodness of nature's best ingredients that add love and care into the soothing hair massage you give your baby. Massaging your baby's hair not only strengthens the mother-child bond but also nourishes it with love and affection.
Ingredients
Sesame Oil, Moringa Seed Oil, Almond Oil, Sage Oil, Mint Oil, Phyllanthus Emblica Extract, Eclipta Alba Extract, Murraya Koenigii Leaf Oil, Hibiscus Rosa Sinensis Extract, and Pongamia Pinnata Extract.

You can get our hair massage oil and other baby skin care products right here.
4. Maaté Body Massage Oil
The mother's womb is the most protected environment for an unborn, at birth, your baby leaves this warmth & protection to enter the world. Thankfully, from ancient times, the practice of massage has helped mothers provide that same warmth, comfort and close bonding with their babies. This practice of daily body massage with our nutrient-rich best baby body massage oil helps your newborn baby's delicate limbs grow stronger and healthier. With every massage, Maaté ensures that your baby is getting the right amount of minerals, vitamins, and essential anti-oxidants.

Ingredients
Morinda Citrifolia Leaf, Sesame Oil, Sunflower Oil, Coconut Oil, Wheat Gram Oil, Avocado Oil, Cassia Alata, Vitex Nugondo, Rosemary Oil, Pomegranate Seed Oil, and Lavender Oil.
Shop our body massage oil and other baby skin care products here. 
5. Maaté Body Butter
Maaté's Body Butter (Natural Baby Body Lotion) ensures your baby's sensitive skin gets the comfort and protection it needs. This Body Lotion is for an intensely moisturizing experience that will provide long-lasting hydration to your little one while promoting growth of healthy skin cells and boosting collagen.

Ingredients
Saffron Oil And Kokum Butter
Give your beautiful baby the goodness of nature with our body butter and other baby skin care products right here.
6. Maaté Face Butter
Maaté Baby Face Butter is specially formulated for your little one's gentle facial skin to provides long-lasting hydration and protection against oxidative damage. We always pay more attention to our facial skin to protect it from allergens, microbes and UV rays. When it comes to our children this is a bigger concern because their skin is more sensitive & delicate. Rich with anti-oxidants and anti-bacterial properties, this baby face cream keeps your baby's skin healthy & radiant.

Ingredients
Chamomile Oil And Shea Butter
Gift India's first baby face butter and other baby skin care products right here.
---