Ayurveda and Child Wellness – What you need to know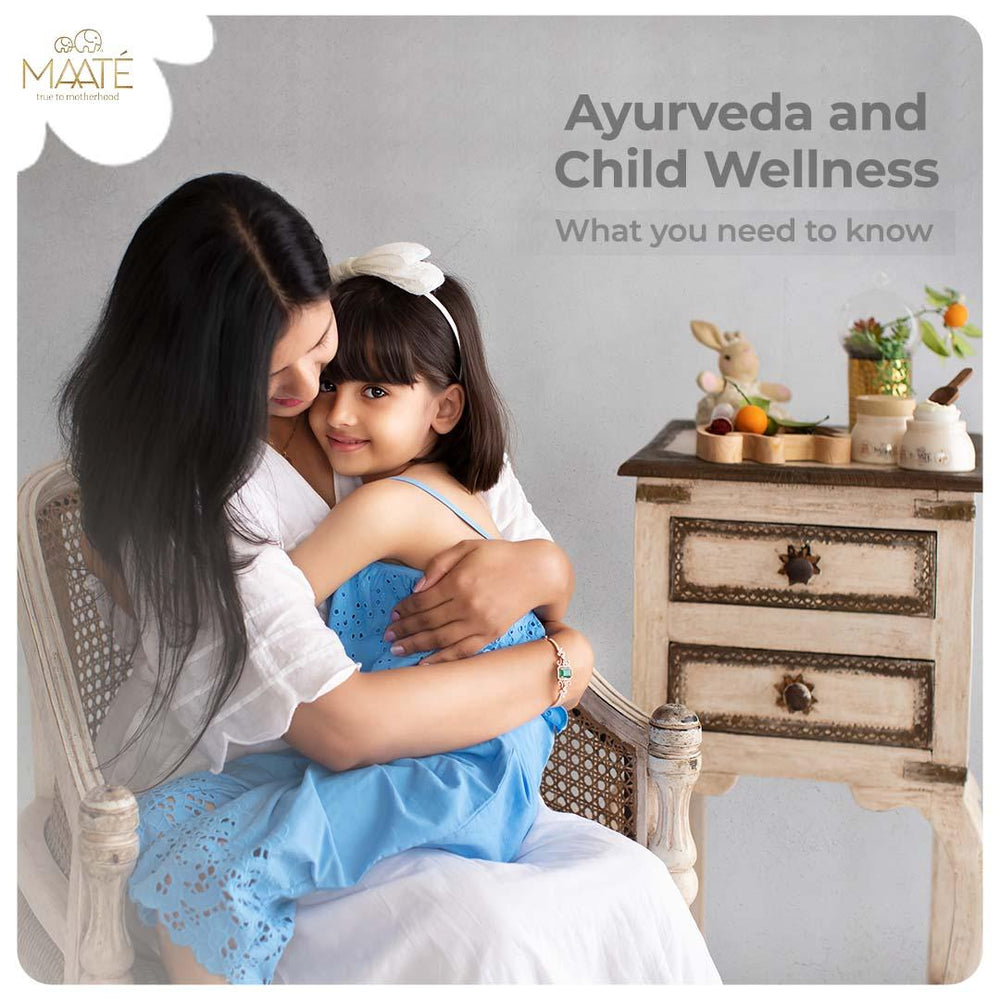 Why every mother should trust Ayurvedic solutions combined with modern care for their babies to ensure holistic wellbeing? An ancient science, Ayurveda has stood the test of time amid ever evolving formulations and new technologies. Emphasizing on children's holistic health through a balance in diet and lifestyle infused with nature's goodness is the wellness mantra of their mind, body and soul. It is believed that Ayurveda, that stems from the ancient Vedic culture, is the oldest healing science. Today mothers are increasingly adopting the route of traditional wisdom along with modern formulations to ensure the best care for their children.
In this article, our in-house Ayurveda expert Dr Ruchika Jha has answered some of the most commonly asked questions on Ayurveda and child care.
1. After birth, when can I start massaging my baby?
A:  The umbilical cord takes around 15 days to dry and fall off. Only after it falls off, you can start massaging the baby.
2. What is an ideal baby bath routine?
A:  Morning hours are best for baby bath. Give your little ones a nourishing body massage followed by a relaxing bath in lukewarm warm. A gap of 15minutes must be maintained to let the oil absorb completely. Choose an hour when the baby is relaxed and not hungry.
3. How do I proof my baby's room so that it is germ free?
A: Traditionally, baby room and clothes were fumigated with natural herbs like Ayurvedic resins and leaves, Brahmi, Heeng, Gugulu and Jatamansi. It is believed to counter negative energies and infuse positivity in the room. It also helps in neutralizing germs in the air.
4. What are the steps to follow for a baby massage ritual?
A:  Abhyanga , Udwartana and Snana – According to Ayurveda, these are the 3 steps of a baby massage ritual. Abhyanga, or gentle massage in upward and reverse order with natural oils. Udwartana or rubbing and massaging the body (below neck area) in a opposite direction to the orientation of body hair. Snana, or giving them a relaxing bath.
5. How often should I oil my baby's hair?
A: New-born scalp and hair are just as delicate as their skin. Daily hair oiling your baby will improve their blood circulation and promote hair growth.
6. According to Ayurveda, what are the benefits of baby massage with natural herbs?
Boosts immunity
Improves natural sleep of the baby
Improves natural appetite
According to Ayurveda, it balances the doshas in the body.
As per Ayurveda, it increases bala (Strength) in the body
7. What are different Doshas in babies?
A: Babies are born with Kapha, Pitta and Vata Dosha. They should ideally have Kapha Dosha predominance.
8. Signs to identify if your baby has Kapha Dosha predominance.
A:
Baby has a sound sleep.
Sleeps for long hours and does not wake easily.
Enjoys good appetite.
Can go longer without food
Babies are big and chubby 
Has big eyes and eyelashes
Not very motivated to move. 
9. What foods must be given to children that balances doshas in their body?
A: Nutritious food must provide sufficient nourishment and energy to every cell of your baby's body. In Ayurveda, digestive fire or Agni plays a key role. When the food burns properly, cells are healthy and produces minimal waste (Ama).
Stimulate all 6 senses with every meal by introducing six tastes (sweet, salt, spice, sour, bitter, astringent). They have different effects on the body and mind
Always prepare your meals fresh and healthy
Allow your child to drink warm water in between meals. It makes the digestive tract stronger.
10. How does massaging with natural herbs benefits the baby?
A: Natural herbs have no harmful side effects and therefore is safer to use for the baby. It deeply nourishes baby skin and helps boost immunity.
11. Till what age should we massage babies.
A: You should at least massage your baby daily till they turn 2 years. After that massage them twice or thrice a week till 5-6 years of age. However, it is recommended to daily massage the baby for its intrinsic benefits. Massaging has no age limit. 
We have provided with an outline on how Ayurveda and child care are related to each other. In case you have certain questions, write to us at care@maate.in. We would be glad to answer them.
---