Benefits of massaging your Newborn Baby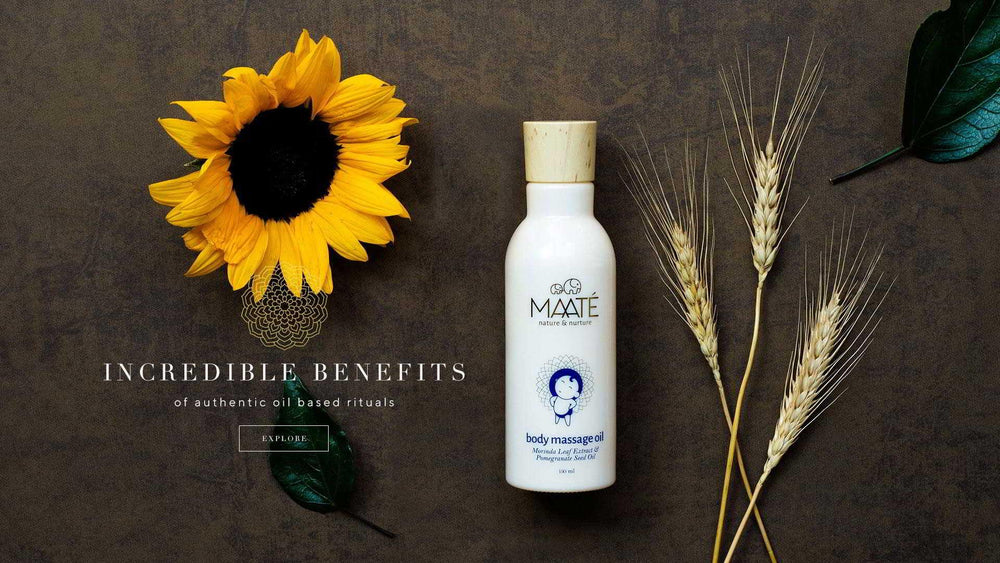 In many places in India, as soon as a woman's pregnancy crosses the 3-month mark, bookings are made – not for the hospital, but for the maalishwaali! That's how much in demand baby massage experts are, especially since they are fewer in number nowadays.
The demand isn't in fact for the maalishwaali but for the maalish, or massage services she provides. Baby massage is something that's been done from centuries and it's still immensely popular. These benefits probably have a lot to do with this popularity.

So, if you're wondering how to choose a massage oil for your newborn, read through our complete guide to learn about different kinds of newborn baby massage oils crafted with love by Maaté.
Benefits of Baby Massage
Touch is the baby's most developed sense right from birth, so a massage is a great way to stimulate the baby
A proper massage stimulates the proper functioning of all body systems
Massaging the arms and legs improves blood circulation to the extremities
Just like for adults, massages relax babies, making them less anxious and fussy
Massage can soothe colic in some babies
A good massage can help babies sleep better
Premature babies, in particular, benefit from massage with better sleep and feeding patterns, and weight gain
When done by the mother or father, it promotes bonding between parent and child
Now we know that massage has several benefits for the baby, the next question is regarding newborn baby massage oil. A baby's skin is much more delicate than adult skin, which means that the oil to be used requires a lot of thought. It should be safe and gentle, while also providing baby with all its benefits. It is recommended to avoid using any oil until the baby is at least 4-6 weeks old. Once your baby has crossed the 8 weeks mark, you can go ahead and use newborn baby massage oils. Here is a complete guide to help you choose the best baby massage oils by Maaté, for your little one.

1. Baby Body Massage Oil
The mother's womb is the most protected environment for an unborn, at birth, your baby leaves this warmth & protection to enter the world. Thankfully, from ancient times, the practice of massage has helped mothers provide that same warmth, comfort and close bonding with their babies. This practice of daily body massage with our nutrient-rich best baby body massage oil helps your newborn baby's delicate limbs grow stronger and healthier. With every massage, Maaté ensures that your baby is getting the right amount of minerals, vitamins, and essential anti-oxidants. Get our newborn baby massage oil for the body by clicking right here.
2. Baby Hair Massage Oil
Hair massage is an age-old tradition that which brings a mother and her child together for a special bonding exercise over which memories are created & stories shared. Maaté's hair Massage Oil is created with the goodness of nature's best ingredients that add love and care into the soothing hair massage you give your baby. Massaging your baby's hair not only strengthens the mother-child bond but also nourishes it with love and affection. Get our newborn baby massage oil for hair here.
---