Benefits of Morinda Leaf Extracts for your baby's body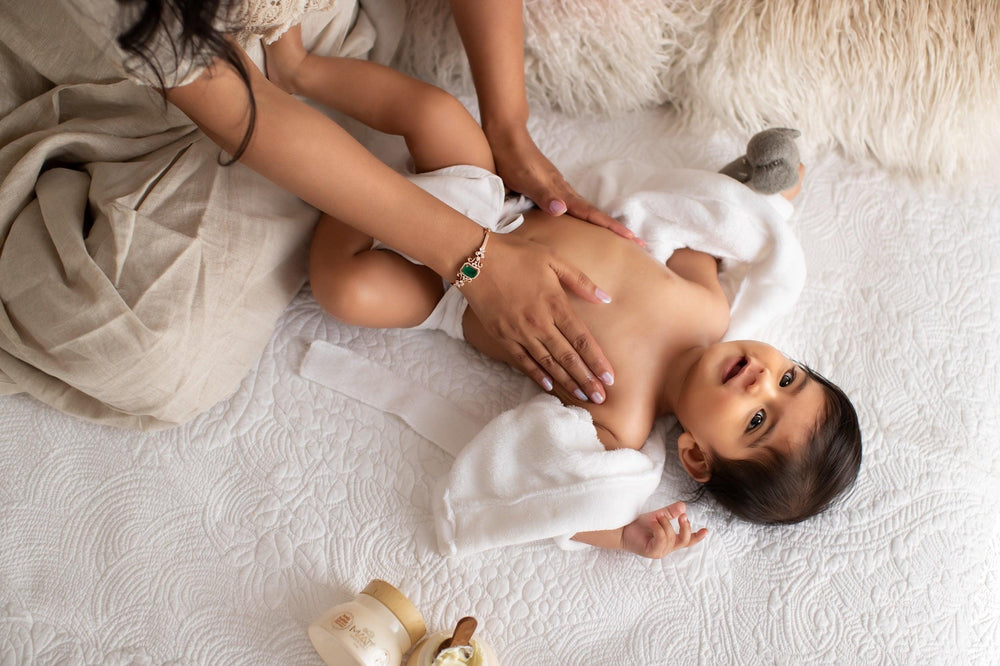 Morinda leaves also known as Noni leaves come from the Noni tree which is indigenous to the tropical plains of Hawaii, Fiji, and Tahiti. The Noni fruit is known as a super fruit and has been trusted to cure numerous ailments in the human body. With over 170 nutrients and vitamins, it is well known in the skin-care industry and should be a definite ingredient when you're looking for natural baby care products for your little one.

Maaté's baby body massage oil is the best baby oil if you're looking to incorporate the goodness of Morinda Leaf extracts in your baby's skin-care routine as it not only helps your new born's delicate limbs grow strong and healthy but also provides their skin just the right amount of minerals, vitamins, and essential antioxidants.
Want to know more about the goodness of this super fruit? Read on to find how Morinda Leaf Extracts can nourish your little angel's delicate body.
ANTI-INFLAMMATORY
The extracts of Morinda leaves have been used to heal skin naturally for centuries. The vitamins and antioxidants present in the leaves provide instant relief from any kind of inflammation and other concerns regarding irritated skin.

Maaté's baby body massage oil with Morinda Extracts at the centre certainly makes for the best baby oil since it not only prevents the breakout of any kind of rashes or skin irritation for your baby but also heals and soothes whatever irritation pre-exists.  
COLLAGEN REPAIR
As a parent, it is important to know the role of collagen in your baby's development. Collagen is the most abundant protein found in your child's body which exists in the bones, the skin, the muscles as well as the tendons. However, the effect of the harsh new environment outside your womb can lead to significant damage to your baby's collagen. Pollution and sun exposure especially, negatively affect the collagen and lead to damage which in turn leads to a loss in elasticity of the skin, reduction in the thickness of the epidermal layer, and other skin problems.

It's thus essential to use a product that helps you reverse the damage and protect that innocent skin at all costs.

Our baby body massage oil is rich in Noni leaf extracts and helps improve the skin tone as well as the elasticity of your baby's skin. The best baby oil out there, the product not only boosts the skin's natural process of repairing collagen but also nourishes your little bundle of joy from within.
HYDRATING
Morinda leaf extracts not only help to hydrate your baby's skin from within but also lead to the efficient functioning of your child's cell membranes. Our best baby oil reflects this goodness as it is full of essential fatty acids that keep their delicate skin hydrated and healthy.

A natural ingredient full of high levels of Vitamin C, Xeronine, and various anti-oxidants, the presence of Morinda leaves is essential when it comes to soothing your baby's skin and alleviating the future skin problems. Provide them with nourishing baby oil that is chemical-free and leads to supple moisturized skin, faster cellular growth, and overall mental well being for your little one.Every stroke of the best baby oil leads to stronger limbs and has Maaté's promise of a healthier and stronger child. Try the goodness of Morinda leaf extracts here.
---