Empowering your children with gratitude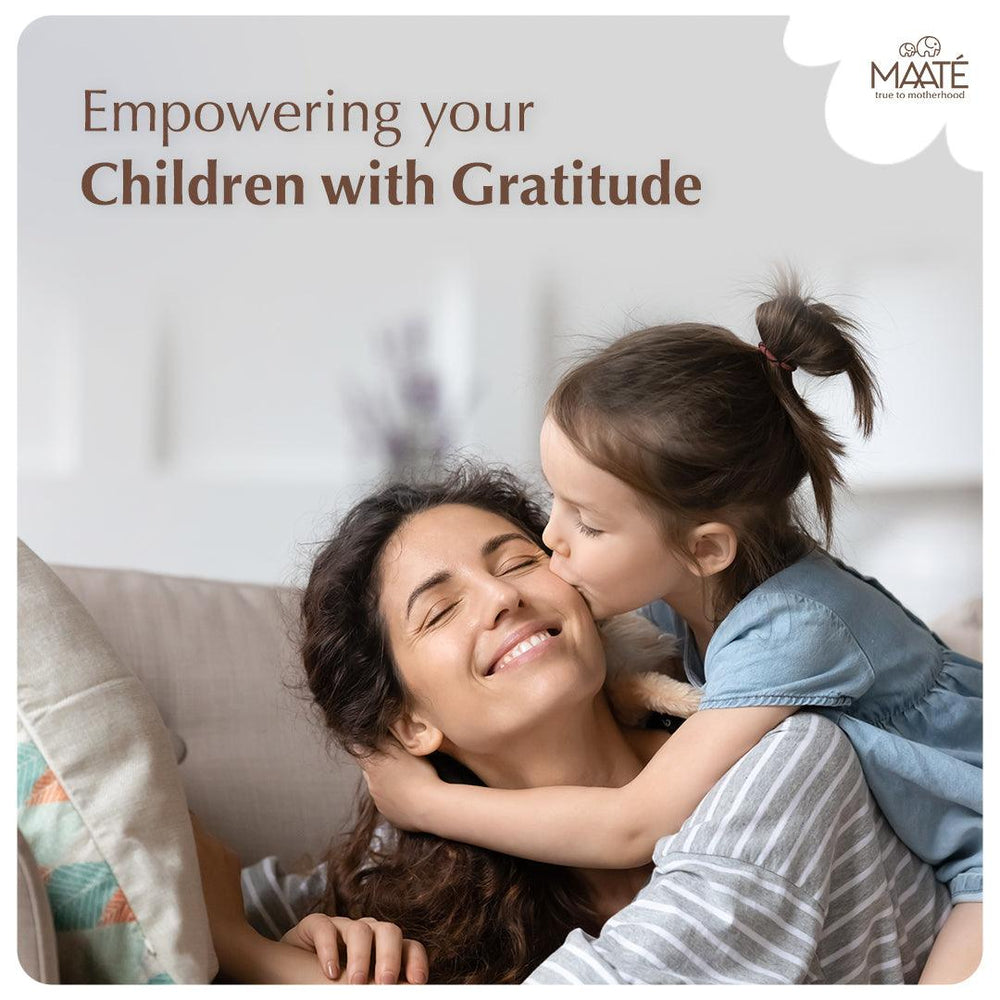 Empowering your children with gratitude
Our children are being raised in a world that is constantly under the indefinite pursuit of fame , stature and reputation. We are so bewildered by the journey of achieving our personal successes that we forget to be mindful of and be thankful for the present. While being thankful for the little joys keeps you rooted,practicing gratitude with children is equally important.It helps build their perspective on developing positive and authentic relationships. Its consistent practice also promotes wellness, better sleep,emotional well being and helps build academic focus.In this busy world, teaching your children to be grateful can be quite a task. It is a difficult concept to understand especially by the younger children but following are some of the ways which can help share the joy of gratitude with your children.
Starting with a simple Thank You
While a simple thank you is reminiscent of good manners it also encourages an empathetic nature in children. But the catch here is that a 'thank you' is effective only when it's said meaningfully. A 'thank you' might not immediately inculcate a feeling of gratitude in children but it can definitely be the first step towards recognising that they have received something from others. Verbally expressing thanks helps a child recognise opportunities of gratitude in the long run. Practicing writing short and sweet notes is a fun way of introducing your little one to a simple Thank You !
Understanding the deeper sense of gratitude
When children have accomplished the first step of meaningfully saying a thank you, they can be slowly introduced to understand gratitude in a deeper way. This can be simply done by encouraging children to answer questions on aspects that they notice, like the people they are grateful to have in their lives. Being aware of the efforts and thoughts behind the gifts and blessings they receive. Acknowledging the feeling of gratitude when they receive gifts. Reciprocating this feeling with little acts of thankfulness. 
Setting an example yourself
Children absorb a lot from their environment and the best way to teach them is by inculcating and exhibiting these habits yourself.Children look up to adults as guides to form their behaviour so it becomes very important for you to practice what you preach. Giving thanks,expressing gratitude and sharing them with your children helps them see, know and feel how little expressions of thankfulness make a big impression in their lives.
A fun gratitude ritual
Gratitude should be second nature to children but till the time it reaches that point, children need to be reminded time and again to practice this virtue. An interesting way to do this is by creating  a ritual like a gratitude jar. Every time you feel grateful about something, write it down on a piece of paper and drop it in the jar. It can be quite a surprise to see how much there is to be thankful for!
This is just one way amongst many to practice gratitude, there are so many more for example a small thankful prayer before bed, Sunday routine dinners with family and friends, the possibilities are endless!

Gratitude manifests itself in many different ways and happiness is one of them. Practicing gratitude should be a priority among children and adults alike. As a family it strengthens bonds and helps to be mindful of the day.
---