Exclusive baby care products that you just can't miss!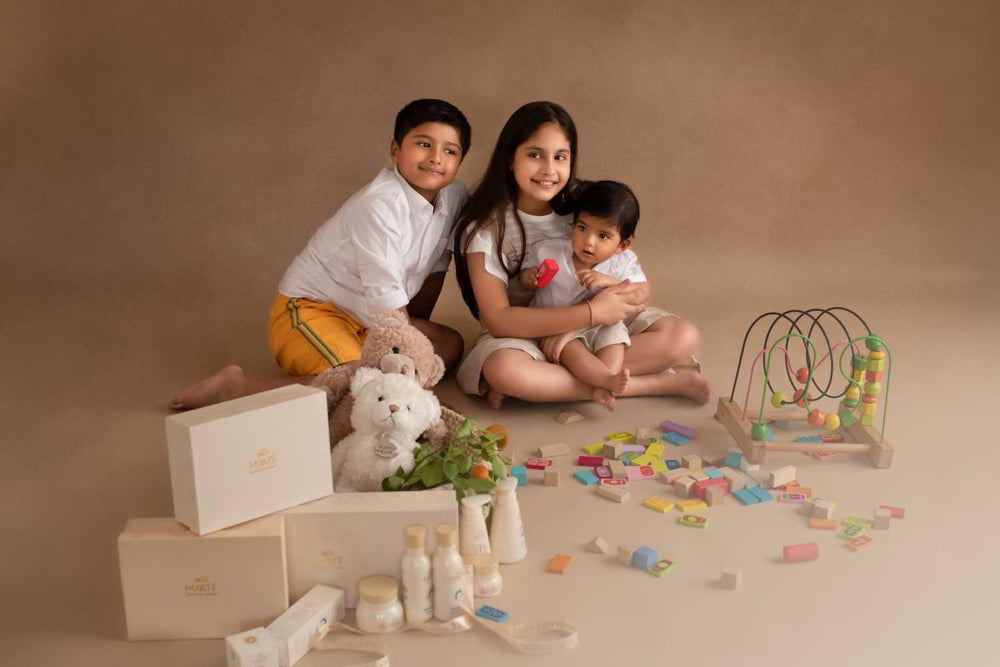 Motherhood is an adventure; no one can fully prepare you for. It is a journey of a lifetime and you as a mother learn through the way. As you navigate your way around finding the right baby care products, it's very natural to feel lost and confused due to the plethora of information available online. Information on baby body-care products, especially, is widely accessible and can catch your attention. And thus it is important to note that this market of body care products for babies can be quite misleading as it is often obsessed with one-stop solutions for your baby.
We at Maate realize that products need to have specific benefits for the different parts of your child's delicate body.  Keeping the salient differences of various parts of their body in mind, we have designed specific products to provide targeted benefits for your little one. We recommend using different products for their face, hair, and body which fully cater to their respective needs.
 Here we talk about three such unique and exclusive baby care products from our range that are specialized for particular parts of your little angel's body.
BABY FACE BUTTER
 We know how irresistible your baby's cute face can be and we know how to help you nourish and soften it without the use of any harsh chemicals. Paying extra attention to facial skin and using a targeted baby care product for the same is essential as it is more sensitive and thin than the skin on the rest of the body.
Maaté Baby Face Butter is specially formulated for your little one's gentle facial skin and provides long-lasting hydration and protection against oxidative damage. It protects your baby's face from allergens, microbes, and UV rays and is rich with antioxidants and anti-bacterial properties. This natural baby cream is a mix of ayurvedic recipes and modern-day technology to help you nurture your baby without compromising on their well being.
Your baby's healthy and radiant skin is now just one step away! Click here
 BABY HAIR MASSAGE OIL
Hair massage is an age-old practice over which memories are created and stories are shared. Maate's hair Massage Oil is created with the goodness of nature's best ingredients that add love and care into the soothing hair massage you give your baby. Massaging your baby's hair not only strengthens the mother-child bond but also helps you nourish your child with love and affection. During this practice, we understand your concern about the safety of your little soul's delicate locks and have thus crafted our baby hair massage oil without any chemical intervention. Not only does it gently strengthen the roots of your baby's hair but it also strengthens the roots of your relationship.
Try one of the best baby care products for yourself and massage away. Check it out here.
  BABY HAIR CLEANSER
The dreamy routine of bath time is full of storytelling and curiosity. It comprises boundless happiness and should never be adulterated with chemicals that lead to discomfort and tears. Choose a shampoo that doesn't come in way of cherishing this happiness and protect that gentle scalp of your baby with Maate's Baby Hair Cleanser.
It is made from the goodness of nature using Fenugreek & Green Gram Extracts and is 100% chemical-free. It conditions the scalp and cleanses hair without stripping the scalp's natural oils. A fine blend of natural emollients and extracts, it amongst out baby care products that is loved and recommended by countless mothers and caregivers. 
Wash away those blues, using the Baby Hair Cleanser right here.
Nourish your baby the right way with specialized goodness for their specific needs and remember -"Jack of all trades, master of none".
---