Lavender for babies- A powerful ingredient!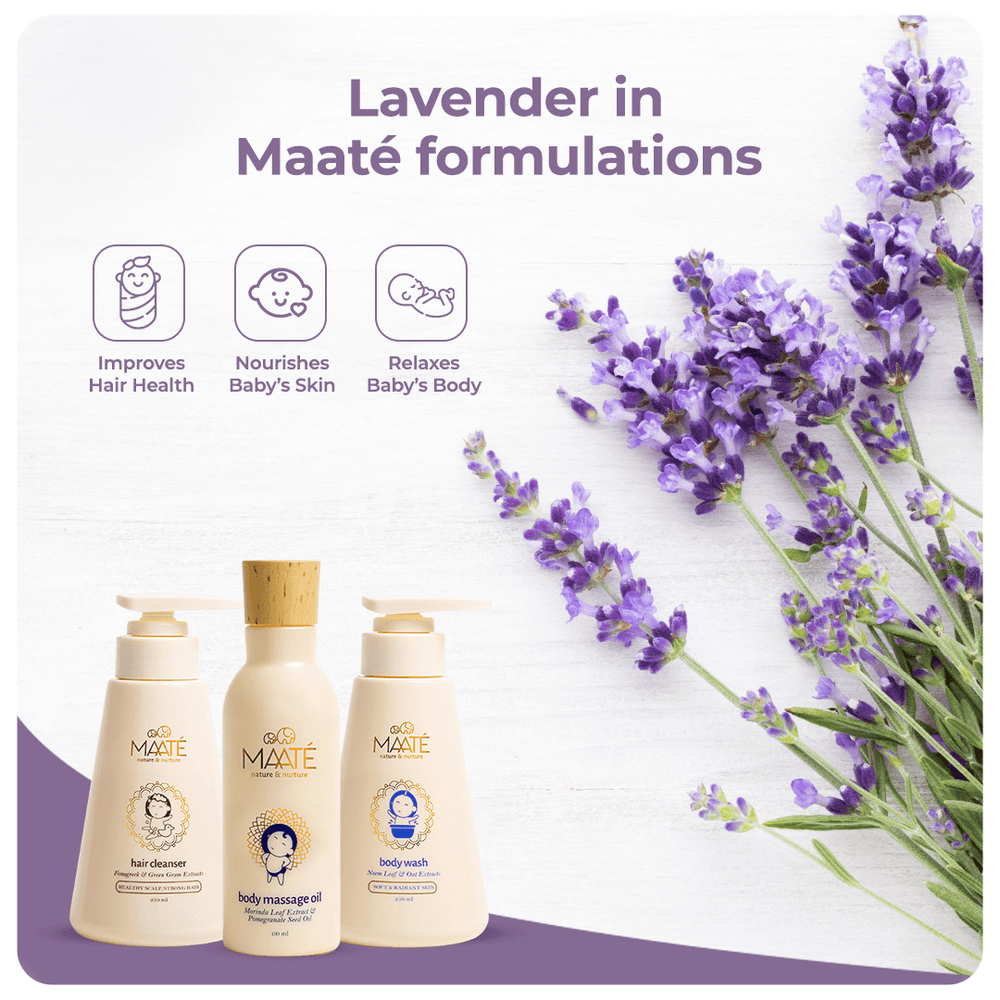 When you talk essential oils, isn't Lavender the first name that comes to your mind? Known for its fragrance and pale-purple colour, Lavender flower has a long history in ayurvedic medicines. It is loved for its wholesome benefits of calming and soothing senses. A potent ingredient in essential oils, it freshens and relaxes the mind and body. Interestingly, Lavender derives its name from the Latin root "lavare", meaning "to wash". In the later times, this potent flower became a bath additive in many regions. Not just in Ayurvedic history but Persian, Greek and Roman cultures believe in Lavender flower's power to calm and purify body and mind.
Lavender Oil in Ayurveda
Lavender is considered to have a soothing, refreshing energy that calm kapha and pitta doshas and stimulate the vata dosha. Ayurveda believes in the power of Lavender oil as it is particularly useful for:
Enhancing the vital force of life or the prana
Nourishes Hair and Skin
Calms and relaxes anxious minds
A powerful ingredient for Sihrodhara, an Ayurvedic therapy, Lavender oil is blended with other essential oils to relieve body stress.
Lavender for Babies
While one should always exercise caution with plant-based formulations for babies, lavender is safe and effective to be used on children, when it comes to their holistic well-being.
Just one whiff of its herbaceous fragrance can make your little one feel calm and more relaxed, at once. It helps to sooth their anxious senses and sleep better. It has antiseptic and antibacterial properties that heals mosquito bites, itchiness and small wounds, cuts and burns. Therapeutic Lavender essential oil also treats skin conditions, improves hair health and blood circulation in the body.
Lavender in Maaté Formulations
By now you will believe us when we say Lavender is a miracle flower with immense benefits, especially for babies. When blended with rich oils and premium herbs, it forms a potent formulation that are a treat to the baby's mind and body.
Owing to several benefits of Lavender oil, its flower power is harnessed and used in Maaté Cleanse range and Body oils. Experience the goodness of lavender oil in Maaté Baby Body Wash, Hair Cleanser and Body Massage Oil.
The body wash improves the natural moisture content of the skin, treats skin and other inflammatory conditions. Blended with other rich ingredients like Oat extracts, natural cleansers like Licorice and Neem leaf extracts keeps baby's body fresh, naturally emollient and hydrated. Maaté moisturizing Baby body wash is a soap free formulation with natural cleansers that cleanse with care and leave your baby's tender skin soft, supple and radiant.
An essential ingredient in our Hair Cleansers, Lavender essential oil is believed to boost hair health in babies. Mild and gentle, it helps hair grow faster and thicker. It is also useful for hair care because it has been shown to be very effective on lice, lice eggs, and nits. Maaté Natural Baby Hair Cleanser is made with protein-rich Green-gram, Fenugreek and soothing Neem leaf extracts for healthy scalp, soft and shiny hair.
Infused with the goodness of Lavender oil, Avocado oil, Pomegranate oil and other plant extracts, Maaté Baby Body Massage oil nourishes the body by getting deeply absorbed, focusing on baby's natural wellness. It enhances bone mineralization, density and strength in babies.
Bubbly Bath times are now more calming than ever!
---