Grandma's secret for your baby's delicate face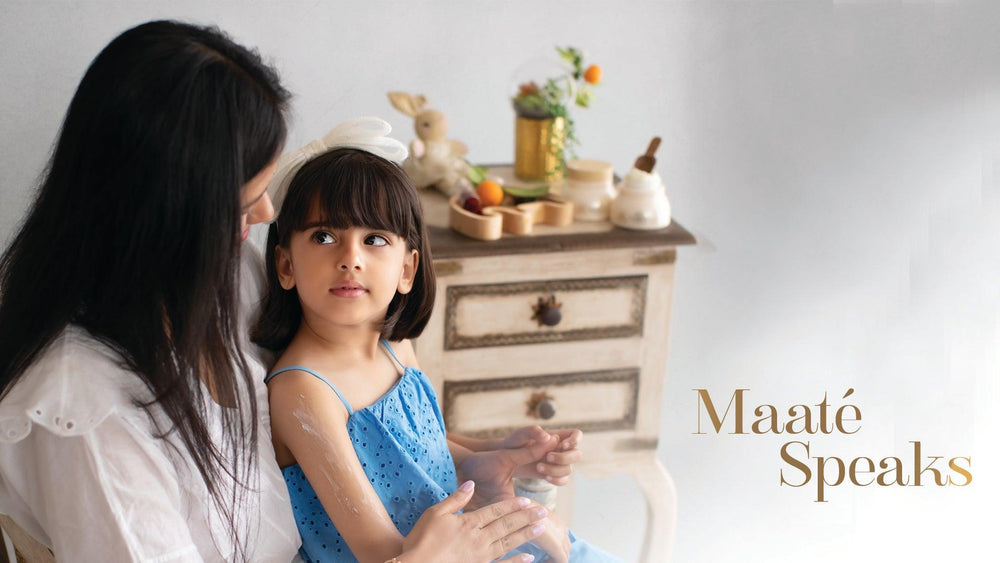 Nothing comes closer to the sweet feeling of nuzzling your baby's little face. Your precious baby has an extremely tender and delicate skin that is sensitive to everything, even your touch. While every kiss, caress, and massage leads to a stronger bond between the two of you, the sensitivity of the skin can also lead to numerous problems. Your baby's facial skin can often turn blotchy, bumpy, and irritated if it isn't provided with the care it deserves.
From generations, our mothers and their mothers have counted on ayurveda and nature for the wellness of the skin. Keeping tradition in mind, it is important to use only a face butter or cream that is naturally and specifically made for your baby's super sensitive and thin facial skin.
Maaté's baby face butter is India's first baby face butter, specially made for your baby's gentle face. Created with the goodness of Chamomile Oil And Shea Butter, it protects your little one's gentle facial skin to provide long-lasting hydration and protection against oxidative damage. 
Avocado oils present in this face butter helps establish an effective shield against UV rays while the Jojoba Oil, with its deeply penetrating and moisturizing properties, mirror your baby's skin's natural sebum, and controls oil secretion on their facial skin.
Rich in vitamins and minerals, this moisturizing baby face butter provides as well as assists in the absorption of nutrients into the cells and protects it from the damage. Full of antioxidants and anti-microbial properties, it is recommended by mothers and grandmothers all over India.
Unveil Grandma's secret for your baby's delicate face right here.
---