Made in the lap of mother nature: 3 Ayurvedic baby care products you should try now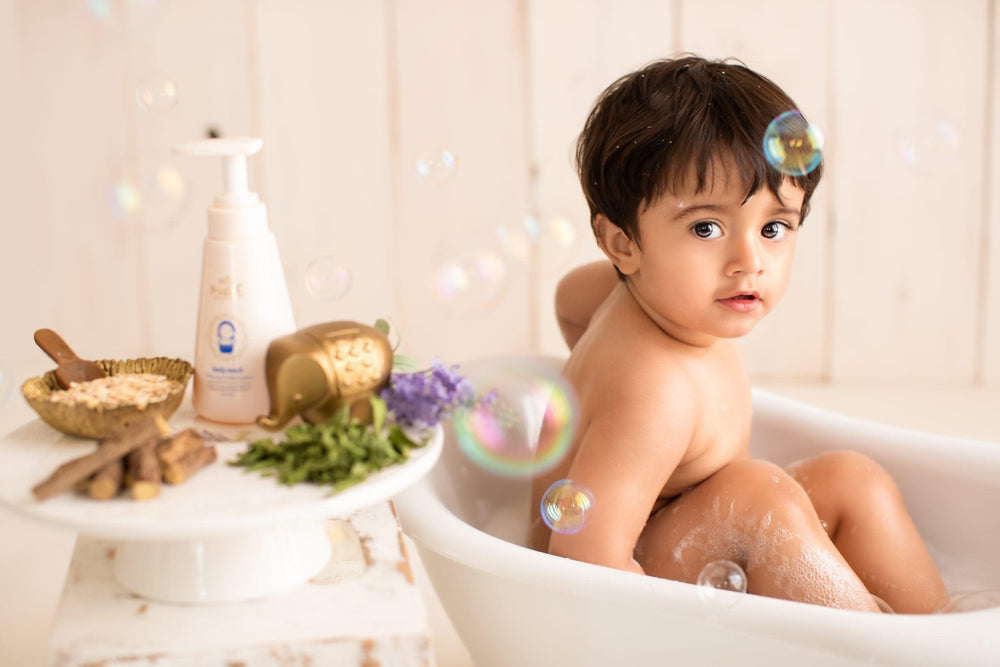 Motherhood is no cakewalk. While shopping for their baby's needs, every parent tends to be a little skeptical; and the concern is valid and highly welcomed since babies are very sensitive to over-processed and chemical packed products.
Your little one has special skin needs that need to be tended to gently and safely. While you consider the various products in the market, what better way to nourish and bond with your baby than using the products from Mother Nature herself? 
Using all-natural, ayurvedic baby care products is your best bet to provide your little bundle of joy with the best for their skin. Using ayurvedic baby care products is not only ethical but also proves to have numerous benefits for your little one's health. Since these products are from the earth, they are in their purest form, providing your baby unfiltered benefits. They are gentle on your baby's delicate skin and do not harm it unlike the abrasive, chemically formulated, over-the-counter baby products. 
We, at Maaté, use only the purest, natural ingredients for the wellness of your baby because we believe in nurturing a toxin-free body and planet. Here are the top three ayurvedic baby care products that are a must-have in your baby inventory if you're looking to go natural:
Created with the goodness of nature's best ingredients, this hair oil is one of our most nourishing ayurvedic baby care products that adds love and care into the soothing practice of giving your baby a hair massage. With ingredients like Hibiscus and Amla, it stimulates hair follicles, strengthening your baby's hair and resulting in healthy hair growth. Sesame oil improves blood circulation in the scalp and is a powerhouse of antioxidants and vitamins. 
This ayurvedic hair massage oil is also high in vitamin E, K and Omega Fatty Acids which are key ingredients to your baby's shiny, strong and healthy hair.
Bath time makes for some very special candid moments and bubbly laughs, but being a part of your baby's daily routine, it's essential that the products you use are extremely gentle. 
While most baby body washes are laden with chemicals, Maaté's Baby Body Wash is one of the most gentle ayurvedic baby care products and is formulated with natural cleansers that are as gentle as water on your baby's skin. The Oat and Licorice extracts leave your baby's skin nourished and supple. In addition to that, the Neem Leaf extract and Lavender Oil keep the skin fresh and provide an abundance of antiseptic and antibacterial properties. 
It is necessary to pay more attention to your baby's facial skin to protect it from allergens, microbes and UV rays. Maaté's baby face butter is formulated for the long-lasting hydration and protection against oxidative damage of your little one's gentle facial skin. This butter is one of our exclusive ayurvedic baby care products and is laden with antioxidant properties of Fenugreek, the nourishment of Shea Butter and the antibacterial benefits of Chamomile oil. 
Jojoba and Avocado oil further protect your baby's face from the harmful UV rays while Aloe vera offers a range of antioxidant and anti-microbial properties. 
What you put in your baby's body should be as pure and authentic as what you within their body. That's why Maaté offers an all-natural range created with love and care, incorporating the benefits of both timeless tradition and science.
---