Nature & Nurture – The source of life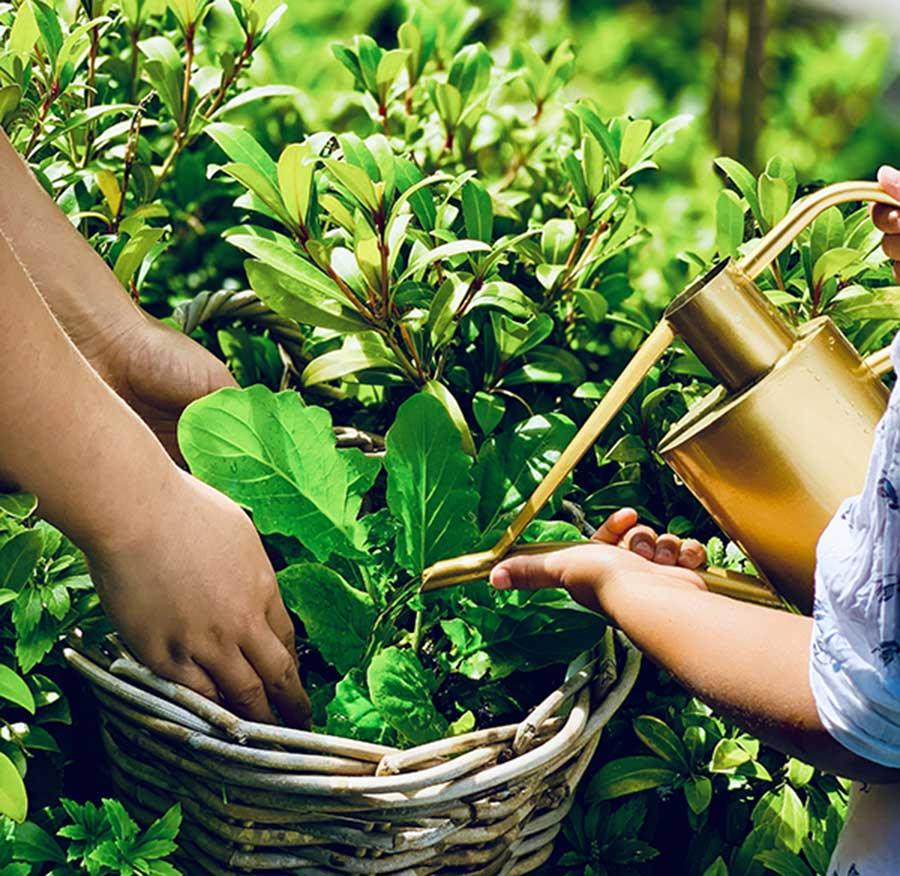 The true spirit of the human body blooms in nature, as nature and human life are all made of the same essential substances. In Ayurveda, we recognize five elements or 'Panchabhootas', the source of Prana or Life, which exist in different proportions in the human body. Akasha, Space or Ether - the first element, represents the empty spaces within, vibrations and frequencies within the body, cosmic and spiritual experiences. Air, the second element, which comes out of Etheric responsible for all movements – it enhances the flow of thoughts and the circulation of blood and nerve impulses. The third, Fire or Agni, also called Tejas, releases energy from the source, enabling metabolism and literally firing the intellect. The fourth element Water which makes up 60% of the human body is related to the formation of fluids such as saliva, blood, urine, semen, sweat, and tears. Prithvi or Earth, the fifth element lends to the physical formation of teeth, bones, skin tissues, bones, muscle, and hair.
Our adage: Nature & Nurture
We are meant to be one with nature and its goodness, and the journey starts right from the time we are born.  Our adage 'Nature and Nurture' comes from this understanding. Being outdoors is important for the cognitive development of your baby as their perceptive abilities get heightened. The sound of birds chirping, leaves rustling and water rippling, stimulates their senses, helping them relate to their environment. Through touch, smells, sounds and sights, a baby starts to identify living creatures, people, places and things.
Every mother is deeply invested in caring for her baby and their needs, which vary at every stage. Keeping the baby clean, healthy and happy is at the core. An hour spent outdoors is essential for Vitamin D, which is best absorbed by the skin directly from the sun. Especially for a baby's delicate constitution, artificial substances and synthetic materials can cause rashes, skin irritation and respiratory problems. As we researched indigenous ways and ancient wisdom, the idea for a natural baby brand, which brings the goodness of nature aided by modern scientific temperament was born. We called it Maaté.
Our vision
Maaté in Sanskrit means mother, and our brand's story began with the journey of a mother and child. A mother-child bond is incredibly precious, and this is our focus. A baby is protected, cared for and nourished inside their mother's womb. Once out in the world, the mother continues to closely care, protect, nourish, comfort and cleanse. This became the foundation of our product systems.
In India, 'prakriti' or nature is defined as a feminine force. This is the force of creation and sustenance that is found everywhere in nature. We look to the earth as 'mother' the one who gifts life of every kind. How should we treat our mother, the creator of life itself? At Maaté, we have a common concern – to bring back the paths more natural to mankind and to find more harmonious ways of living, for the sustainability of all life on our planet.  And of course, this starts right at the beginning – as a baby.
Our philosophy
We are committed. We are natural. We are ethical. We are specific. We are trustworthy. In all, we bring our actions to reflect in everything we do in a holistic way, from sourcing pure ingredients to making renewable packaging. We are committed to bringing people the purest formulations with the best efficacy. We take utmost care in choosing the mild and safest ingredients in our formulations which are approved to use in baby products. We do not add any artificial fragrances, moisturizers, and colors.
We make products that have specific and targeted benefits, rather than attempting to address many different issues with a single formula. Both in our process and the way we approach to making a product, we believe in choosing the right path and make no compromises. Products for babies need to be sensitive and completely reliable – and we want Maaté to be a symbol of this trust.
Our approach
For the overall healthy development of a child into an adult, Nature has her own program for us. At Maaté we try to bring this program alive at every stage through our strong value system. We believe that we should give back to the earth and replenish her resources. Hence, all packaging for all our products is done with renewable or recyclable materials.
The journey we take, is as important to us, as the end result. Our strong belief that every product should be made with love and care has led to many mothers working at our facilities, so all ingredients and herbs are extracted with the same attention. This attention for detail and an inexhaustible passion for making sure everything is done well is a Maaté tradition.
Right to tiny details, a mother's bond with her baby is caring, protective, comforting and nourishing and always, the mother follows the natural rhythm of her baby. Likewise, our product lines: Nourish, Cleanse and Comfort include cleansers and nutritional oils for the complete care of your baby's body and hair. Inspired by Ayurveda, oil is the base of many of our formulations. We use only natural ingredients in our products and less than one percent of approved, safe and mild preservatives, balanced carefully to prevent contamination and generation of microorganisms.
Each product is tested at NABL certified labs and adheres to BIS (Bureau of Indian Standards). Every batch is tested twice. Since there can be heavy metals like mercury and lead in the groundwater and soil in many places today, our entire process is carefully controlled to eliminate any contamination. For this reason, we take the effort to source pure ingredients, which are cultivated far outside urban settlements. To get 100% natural products, we also work with manufacturers outside India in the Asian region.
Our symbol
Maaté's symbol of a mother and baby elephant embodies the special bond between a mother and child through the idea of trust. A baby elephant follows its mother, trusting her completely, feeling a safe comfort. Dependent entirely on the mother elephant for its first year, the calf drinks its mother's milk, gets bathed and scrubbed by its mother, who also gently teaches it how to manoeuvre its trunk, as it grows. The calf is in constant touch with its mother, staying close to her for protection, nourishment, care, and comfort. It is the female in the herd of elephants, who is social and cares for the baby, while the males move away, independent. Maaté is dedicated to this strong feminine force and giving every mother and her baby a sense of warmth and security.
---
Disclaimer:
Our blog brings you varied opinions and latest developments in baby care and products, as well as precautions in baby care. However, articles presented do not in any way supplement a doctor's or medical practitioner's advice and should not be taken as a substitute for medical intervention. The information presented in our blogs is made to be accurate to the best of our knowledge, but errors and variances may occur based on changing knowledge in related fields. Readers must consult with a medical professional for their specific problems and not rely on the articles presented in our blogs, which are meant to be informative in nature only.
---