Soap Vs Baby Body Wash: What's better for your baby?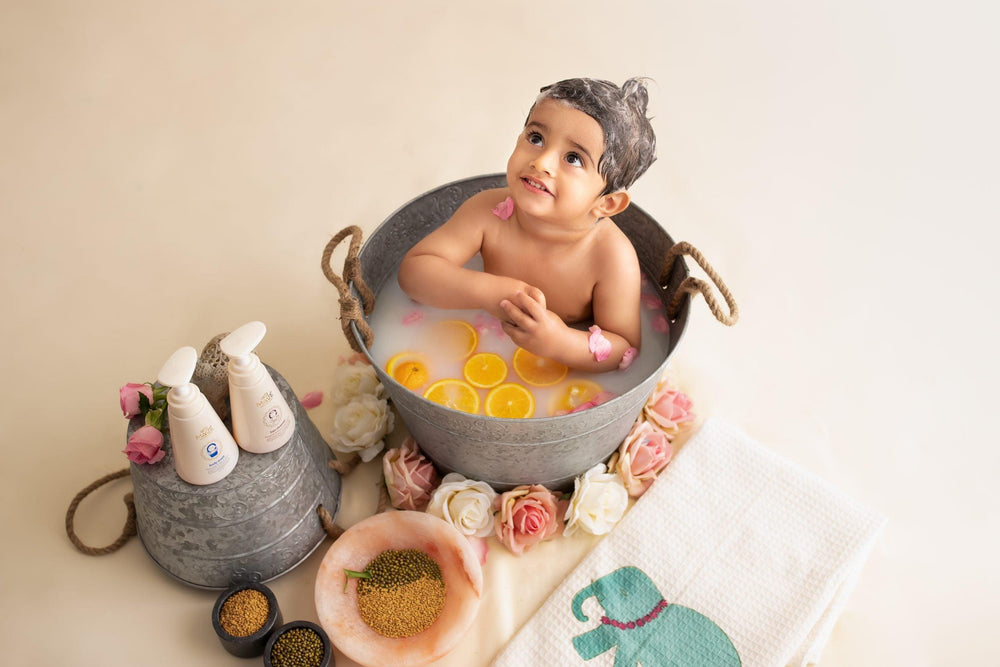 The age-old debate between baby soap and baby body wash has divided new moms for years. While some mothers rave about bar soap, most prefer a nourishing baby body wash for their little one. Nothing better than a squeaky-clean baby and whatever cleansing product you use should give you just that. We, at Maaté, recommend using a baby body wash for your baby's soft supple skin due to the numerous benefits it offers over bar soaps. Our moisturizing baby body wash formulated with natural cleansers like Neem Leaf and Oat extracts cleanse with care and leave your baby's tender skin soft, supple, and radiant.  As a mother, you only want the best for your child and we want to help you make an informed choice.
Here are some of the reasons why we prefer a baby body wash over the traditional bar soap:
1. More hygienic
Soap bars may have been here for centuries but they are most definitely not the most hygienic option in the market. Soap is openly exposed to the air which can lead to the manifestation of bacteria which can further be transferred to your baby. Soap bars also become slippery after the first few uses and have more tendencies of falling and collecting dirt from all over. Our well-made baby body wash on the other hand is untouched and is safely secured in high-end glass, recyclable, and 100% non-toxic packaging. The pump bottle makes it easier to use with one hand, while deeply cleansing your baby with the other. No more juggling, wriggling, and slipping, it's time for pure convenience.
2. A luscious lather for all-round cleaning
Our baby body wash full of Antiseptic & antibacterial properties of Neem Leaf Extract and Lavender Oil keeps the skin healthy and fresh, by creating a luscious lather. This luscious lather helps in all-round cleaning of your child's delicate body and reaches every crevice, even the place a normal soap bar could miss. The small bubbles from this lather make bath-time an indulgent experience that leaves your baby feeling pampered, renewed, and relaxed.
3. All-over hydration
Bar baby soaps are mostly alkaline and repeated washes can lead to dry and damaged skin. Furthermore, these bar soaps often have fragrances added to cover the smells of their parts. We, at Maaté, thus recommend only using our natural and moisturizing baby body wash for your little angel as the oats in this baby body wash helps maintain the skin's natural oils and soothes dryness.
Soaps simply clean. They might serve your purpose of washing away the dirt however are too strong for the wellness of your baby's delicate skin.
Your baby's skin needs something more moisturizing and gentle, and our baby body wash is just that. Make your baby's bath-time, their favorite part of the day, check out this 400ml of goodness here.
---