THE HOLISTIC APPROACH TO BABY CARE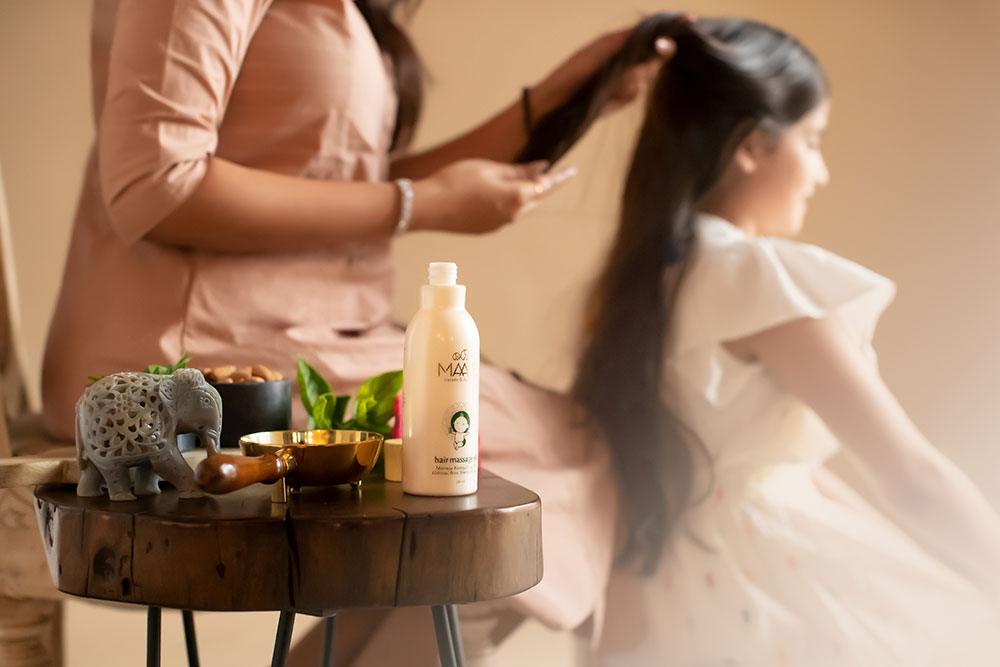 "You can take an Indian out of India, but not India out of an Indian."
What is the significance of this saying?
Why is it that no matter where we Indians go, we cannot let go of our beliefs, our rituals, our ideas, our culture, our music, our art or anything that has the fragrance of our unprocessed traditions attached to it?
There's a reason why that is. We Indians are born into a close-knit household which gives form to our ideas and beliefs in ways no other place can. So, the HOMELY aspect always holds a much greater significance for us.
Big branching family trees mean more traditions, more colors, more Family movies, more children, which means more fond memories.
Similarly, what never goes out of style for someone born and raised in the spirit of camaraderie and oneness know how grandparents follow the same pattern everywhere. Leaving their dentures soaked in water overnight, to little quirks like watering the plants themselves because little MINKY didn't bother to listen when she was asked to do it and how they like bonafide virtuosos take to their rocking chairs to recite lullabies, that they feel remain undisputed even in today's day and age. How can one forget their advice on fixing irritable common cold with Kadha made with everything natural and their not making a big deal out of a deep, open bruise, which they very sweetly suggested can be fixed with Neem without much hassle?
Surprisingly enough, 8 out of 10 times those natural remedies worked like magic.
 The euphonious chirping of birds on a lazy summer evening on the mango tree right outside Nani Ma's house. The times when everyone was interested in Nature and cared about the quality time spent with loved ones in its shade. The times when there was no such thing as indoor games and the outside world was just as safe as the inside.
Ah! those were the days!
ALL NATURAL, ETHICALLY SOURCED, AND TOXIC-FREE
With the change in time, traditional methods took a backseat.
Why this happened is because more on the spot, over the counter treatments took over the markets. Claims were made regarding Skincare routine, immunity-boosting elements, and hair care products. These claims soon made their way into the baby care circuit which made it almost impossible to choose that one thing that could care for and nourish the little ones without any harmful effects.

Slowly but gradually people educated themselves on the holistic approach to baby care which involved the presence of Nature in all key areas.

As a general rule of thumb, babies should only receive the goodness of Natural ingredients, given that their skin type is ultra-soft and anything harsh can ruin its texture and quality.
Baby products should contain nothing less than the fresh fragrance of the tropics, accompanied by the wisdom of the sun, and the soothing Nature of the Greens.
It should be all-natural, wholesome, and untouched by toxins and chemicals.
THE HISTORY OF INDIA'S GLORIFIED SCIENCE OF NATURAL HEALING
Ayurveda is believed to be an eternal science which first existed in the Universal consciousness (Brahma) subsequently being passed onto ancient Indian mystics through years and years of meditation.
The fabled land of exotic spices, peacocks, textiles, and gems, INDIA, has always been a tempting prospect to traders and invaders worldwide. The Natural aspect, the science of healing and the fact that it all happened so organically through a holistic approach was enticing enough for generations and still is. What's equally wonderful and surprising is that the fundamentals that form the basis of Ayurveda have stayed the same since the beginning of time to this day.
The saga of man's struggle against diseases and illnesses have Ayurveda rooted in its core which shines as an example and an inspiration for everyone to get to the root of every problem without any rush whatsoever.
This sense of slowness comes from the fact that only Natural attributes come together to make sure that Ayurveda and immunity go hand in hand and they don't mean temporary healing but a rather permanent one. 
THE FUNDAMENTALS OF AYURVEDA WE BROUGHT INTO BABY CARE
By now you know MAATÉ's commitment to the ever so blooming and soul-soothing Natural world.
Our fundamentals on which we have based our ideologies are all dedicated to the harmony between Nature and human life.

The body, mind, and spirit first understand visuals, what they see is what they believe. Then they identify smell and lastly taste.
Humans have the tendency to develop positive thoughts for everything that blooms in Nature. The manifestation of mind upon spotting positivity is the first step to staying healthy. The happiness one derives from Nature is unexplainable and cannot be put into words. With our fast-paced lives, it's possible to lose touch and get fully absorbed into regularity. But Nature has a way of transporting us into a reimagined space where we fall in love with the idea of slowness, the idea of Natural care, and the idea of prospering with a deep understanding of evolution itself. 
This understanding and profound study are what led to the creation of MAATÉ.
It's Nature that inspired us to create formulations that are all about the gentle care of babies without having any side effects whatsoever. It's Nature that gave us enriching experiences that became stories to be told to the world through our products. It's Nature that gave us a sense of belonging each time we walked on the Green carpet with deep blue over our heads. It's Nature that taught us the importance of unadulterated goodness, and its Nature alone that made us want to keep going back and leaving a piece of ourselves whenever we turned to it for answers to all our questions.

MAATÉ is our ode to Nature and its biggest gift to mankind which is AYURVEDA!
---
Disclaimer:
Our blog brings you varied opinions and latest developments in baby care and products, as well as precautions in baby care. However, articles presented do not in any way supplement a doctor's or medical practitioner's advice and should not be taken as a substitute for medical intervention. The information presented in our blogs is made to be accurate to the best of our knowledge, but errors and variances may occur based on changing knowledge in related fields. Readers must consult with a medical professional for their specific problems and not rely on the articles presented in our blogs, which are meant to be informative in nature only.
---