Why Body Ritual is important for babies?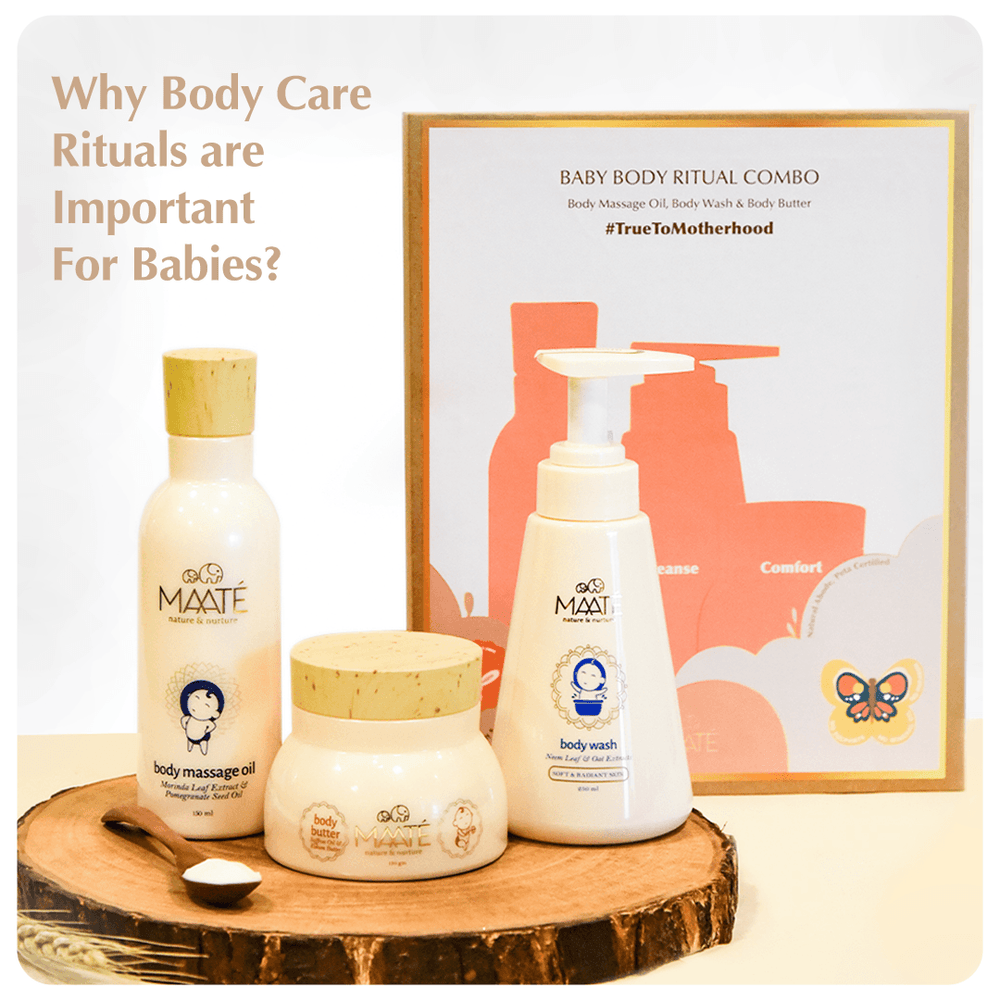 When babies are born, parents experience a watershed moment that changes the course of their lives. As babies are extremely young and their organ systems are still developing, their immunity levels need special care and attention. Having delivered a young life and recovering from childbirth, mothers also need adequate rest, freshly cooked warm food, calm and loving atmosphere and positive energy around her.
Ayurveda emphasizes on practicing daily rituals aligned to the rhythms of seasonality. Along with baby's skin and hair care rituals that naturally cleanses and comforts them, following a holistic routine balances their mind, body and soul. When babies are born, their bodies and senses are delicate. Human skin is the largest sense organ in our body and considered the core of our indriyas or senses. Our bodies are naturally seasoned to rejuvenate and repair, with proper care. In babies, skin is the first barrier that protects them against germs and viruses. To keep them healthy, we must make conscious and more informed choices with respect to their nutrition, daily rituals and baby products.
What Baby Body Ritual is essential?
Daily pre to post bath routine is essential for babies. Proper skin care and bathing helps to maintain their delicate health and texture of their skin. Baths can be given any time during the day, ideally a fixed hour. Daily body care ritual relaxes little ones, restores their balance and boosts natural growth.
Baby Body ritual mainly comprises of:
Warm Oil Massage before bath time

– Ayurvedic practices emphasize on warm oil massage before bath as it controls aggravated

Vata Dosha

. It also believes that the touch therapy does wonders to the bond between a mother and her child.
Gentle cleanse during bath

– Bathing can not only be about cleansing but it is meditative too. According to Ayurvedic principles, bathing is sacred and has healing properties too. It cleans, destroys fatigue, purifies the body and promotes

Ojas

or divine energy.
Deep moisturization after bath

– Soon after a refreshing bath, it is important to lock in the moisture in your little one's body. Apply a naturally emollient cream or butter that provides deep hydration preventing it from going dry. 
The skin and hair texture in babies is one of the last and major systems to be formed. Sweat glands that help to regulate body temperature or eliminate toxins from their body take up to 3 years to completely develop. Thus, baby body mechanism is such that they can handle far lesser amounts of toxic loads than adults.
It is therefore important to avoid cosmetic baby products and choose natural products that are completely safe, effective, gentle and promotes holistic health in babies.
Maaté Body Care Ritual Box
When it comes to your baby's body care ritual, look no further. Maaté has curated this daily body ritual box to give your little ones the perfect blend of nourishment, cleansing and comfort.
The box thoughtfully curates Maaté Body Massage Oil for healthy, skeletal growth of your baby, Maaté Body Wash, for mild cleansing & Maaté Body Butter to lock-in that moisture for soft & supple skin of your little bundle of joy. 100% vegan, each of these products have targeted benefits for your baby.
Maaté Baby Body Massage Oil
Boosts healthy skeletal growth 

Mix of Avocado Oil, Pomegranate Seed Oil and Castor Oil 
Maaté Baby Body Wash 
Keeps baby skin soft, supple and radiant 

Mix of Oat, Licorice and Neem extracts 
Maaté Baby Body Butter 
Provide long lasting hydration 

Infused with the goodness of Saffron oil and Kokum Butter
---