Your one-stop-shop for all things baby-care!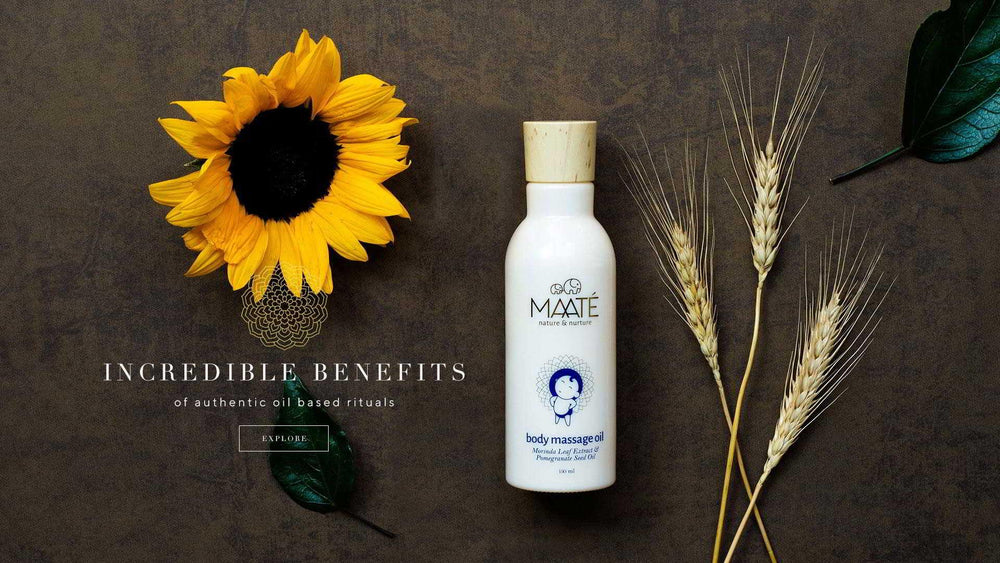 As you become a new momma, the joy and happiness that you get with your new born baby are unparalleled to anything that you have ever experienced in your life. However, the responsibilities and worries of a new member in the family can get overwhelming at times as you only want to give the best to your baby and the choices regarding everything are endless. One such problem that often worries new mothers is that of where to find the right new born baby products online.
With the internet booming, it now makes a lot more sense to shop online, thanks to the variety of options available at the convenience of your home. Being a new mom is a full-time job and you need all the free time you can get, thus making online shopping your best bet. 
One of the most natural Indian baby care brands, Maaté brings high-quality, chemical-free products to nourish your baby right at your doorstep. Our range of new born baby products online, inspired by Ayurveda, is adapted to the modern-day environment and is consciously formulated using the purest ingredients nature has to offer. 
Read on to find about our range of new born baby products online :
NOURISH
Maaté's baby body massage oil comprises Morinda Citrifolia Leaf Extract along with Pomegranate Seed Oil which not only increases your little angel's bodily resilience but also boosts their immune system as a whole. This is one of the most nourishing new born baby products online.
Maaté's hair Massage Oil is created with the goodness of nature's best ingredients that add love and care into the soothing hair massage you give your baby. During this practice, we understand your concern about the safety of your little soul's delicate locks and have thus crafted our baby hair massage oil without any chemical intervention. Not only does it gently strengthen the roots of your baby's hair but it also strengthens the roots of your relationship.
CLEANSE
Maaté's Baby Hair Cleanser is made from the goodness of nature using Fenugreek & Green Gram Extracts and is 100% chemical-free. It conditions the scalp and cleanses hair without stripping the scalp's natural oils. A fine blend of natural emollients and extracts, it's amongst our top new born baby products online that are loved and recommended by countless Indian mothers and caregivers. 
Maaté's Baby Body Wash is an organic body wash that not only pampers their gentle skin but also adds to their health. It is a natural cleanser that rinses with care and leaves your baby's tender skin soft, supple, and radiant. A super nourishing cleanser, it is one of our most gentle new born baby products online.
COMFORT
Maaté Baby Face Butter is specially formulated for your little one's gentle facial skin and provides long-lasting hydration and protection against oxidative damage. It protects your baby's face from allergens, microbes, and UV rays and is rich with antioxidants and anti-bacterial properties. This natural baby cream is a mix of ayurvedic recipes and modern-day technology to help you nurture your baby without compromising on their well being.
Maaté's Baby Body Butter makes for an intensely hydrating experience that provides long-lasting freshness to your little one while promoting the growth of healthy skin cells and boosting collagen. It is a rich blend of Saffron oil And Kokum butter that lovingly nurtures your baby's skin.
Maaté is your one-stop shop for all things baby care! Shop from our range of new born baby products online and offer tangible wellness benefits to your baby today!
---